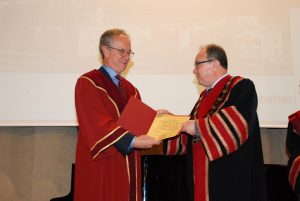 The Bulgarian Academy of Sciences awarded the honorary title of Doctor Honoris Causa to Prof. Eric Verdin, President of The Buck Institute for studying aging in the United States. The title was awarded for his outstanding scientific achievements in the field of biomedicine. The ceremony was held at the Big Hall of the Bulgarian Academy of Sciences.
"It is my great honor and responsibility to receive this title," Prof. Verdin said, adding that he hoped the collaboration between the Bulgarian Academy of Sciences and the Buck Institute would be deepened.
After the ceremony, Professor Eric Verdin delivered an academic lecture on the relationship between nutrition and aging processes in the human body. He presented the latest research by Buck Institute researchers about the factors that have an impact on lifespan. The main goal of the US researchers is to increase the number of years in which the human body remains unaffected by diseases such as cardiovascular disease and heart attack, certain cancers, Alzheimer's and Parkinson's, arthritis, diabetes, etc. According to Prof. Verdin, the in-depth studies of aging processes will lead to novelties in medicine.
Research by the Buck Institute shows that reducing caloric intake in the body will lead to an increase in life expectancy. Prof. Verdin recommended a low-carb diet and an increase in the number of hours per day without food intake.
The President of Buck Institute will visit tomorrow institutes of the Bulgarian Academy of Sciences to get acquainted with their latest research in the field of biomedicine.