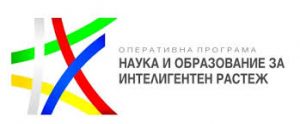 A project for the establishment of a Center of Excellence in Mechatronics and Clean Technologies with coordinator the Institute of General and Inorganic Chemistry – BAS in the framework of the "Science and Education for Smart Growth" Operational Program 2014-2020 under the procedure for selection of projects BG05M2OP001-1.001 "Construction and development of centers of excellence" was approved for funding.
The aim is to build a new type of national Center for Excellence in Mechatronics and Clean Technologies to mobilize the research potential so as to achieve a qualitatively new level of knowledge in several mutually overlapping economic segments: mechanics, robotics, energy efficiency, sustainable use of raw materials and resources, reduction of greenhouse gas emissions. The research plan will ensure the establishment, operation, development and converting the Center into a leading national and competitive European scientific structure within a 10-year period. In this way, the project will add value to the implementation of Bulgaria's sustainable and smart growth program.
The Center is based on the principle of "complementarity-synergism" and unites leading scientific groups from the institutes of the Bulgarian Academy of Sciences (a total of 12) and universities – Sofia University "St. Kliment Ohridski ", TU-Sofia, TU-Varna, TU-Gabrovo and UCTM-Sofia. The role of each of the partner organizations is to coordinate, organize and conduct independent research activities in the field of mechatronics and clean technologies. For the purpose of closer relations with business, Mechatronics Cluster, Borima EAD and R&D Association have been attracted as associate partners based on a publicly announced competition. In order to provide a higher scientific level of the center, units of world-famous universities (Tel Aviv, Berlin and Delft) and the Institute of Robotics and Intelligent Systems at the Federal Technical University, Zurich, have been attracted as associate partners, in the same way.
Within the framework of the Center, the building of specific infrastructure is envisaged, including the construction of three, unique for the country, complex equipments: "TU" Complex, specializing in the field of mechatronics; "Lozenets" Complex focused on the field of clean technologies and "Geo Milev" complex covering the areas of mechatronics and clean technologies. The new type of infrastructure will enrich and deepen research in the field of mechatronics and clean technologies and will help to create competitive and interdisciplinary research teams that are capable of successful participation in other programs and competitions.
The research program is structured into four work packages that are thematic-oriented in harmony with the priority directions of ISSS. Topics are selected to follow the overall economic cycle: from high-tech production, through resource-efficient production to the introduction of a low-carbon economy. The implementation of these activities is necessary in order to put the research foundation in Bulgaria to accelerate its transition from the group of "modest innovators" to the group of "moderate innovators" – a strategic goal of Bulgaria in order to address societal challenges.