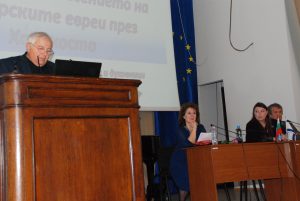 A meeting on the occasion of "75th Anniversary from the Salvation of Bulgarian Jews during the Second World War" took place in the Big Hall of the Bulgarian Academy of Sciences. The event was organized by Academic Friends of Israel in Bulgaria in partnership with Archives State Agency and the International Christian Embassy, Jerusalem.
A greeting on behalf of the President of the Bulgarian Academy of Sciences was conveyed by the Vice-President of the Academy corr.-mem. Vassil Nikolov. "This day is a symbol of the timeless values, courage and unity manifested 75 years ago by the united Bulgarian people," says the greeting. Corr-mem. Nikolov recalled the unprecedented resistance of that time throughout the country and noted that we had the honor of being the descendants of those worthy Bulgarians whose works we were proud of in the world.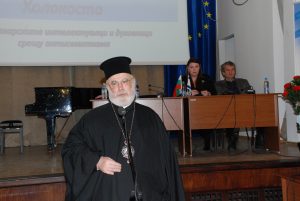 Bishop Tikhon of Tiberiopolis, MP and member of the Bulgaria-Israel Parliamentary Friendship Group Petar Vitanov, the Deputy Mayor of Sofia Assoc. Prof. Todor Chobanov, representatives of OJB Shalom, the Rule of Law Institute, the Armenian community in Bulgaria and the National Council of Religious Communities in Bulgaria, the academic community, students and others honored the event.
During the meeting, summary reports and memories of Bulgarian scientists who had experienced these difficult times were presented. Academician Georgi Markov provided data on the role of Bulgarian scientists in the salvation of Bulgarian Jews. In the foyer of the Bulgarian Academy of Sciences, the Salvation 1943 exhibition was presented.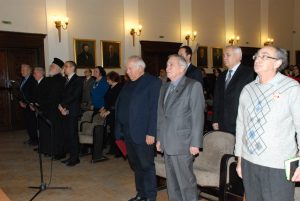 75 years ago, Bulgaria became a major exception in Europe and the world, saving from death all of its Jewish community – 50,000 and 15,000 more who received transit visas through our country.