The National Scientific Program "Protection of the environment and reduction of the risk of adverse phenomena and natural disasters", financed by the Ministry of Education and Science, was presented on March 12 in the "Prof. Marin Drinov" Hall of the Bulgarian Academy of Sciences.
The program will end in 2022 and its beneficiaries (BAS, St. Kliment Ohridski University, Agricultural Academy, University of Mining and Geology, University of Chemical Technology and Metallurgy, University of Forestry, University of Architecture, Civil Engineering and Geodesy, Technical University, National Center for Public Health and Analyses) will conduct fundamental and applied research aimed at ensuring a sustainable, favorable and safer living environment for the population of the Republic of Bulgaria. Corr.-mem. Kostadin Ganev – Vice-President of the Bulgarian Academy of Sciences and Head of the Program presented its goals and the expected results.
The activities of the program are divided into 12 packages dealing with climate, atmosphere, water quality and urban environment, catastrophes and natural phenomena, geological environment and geological hazards, biodiversity and ecosystem risks, geological past.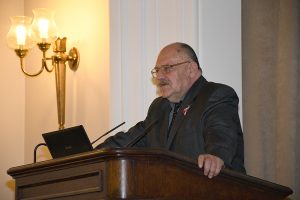 Based on the knowledge gained from these studies, systems for predicting adverse and catastrophic natural phenomena, early warning systems of natural disasters as well as long-term strategies and a set of prevention measures will be developed. It also aims to fill gaps in knowledge about the mechanisms of biodiversity loss and ecosystem functions in Bulgaria and the Black Sea in conditions of climate change and extreme natural phenomena and their interactions with human activity. The knowledge gained will also serve to update curricula.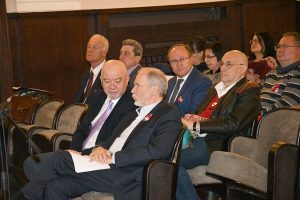 A program website is in the process of development on which its results will be published in due course.