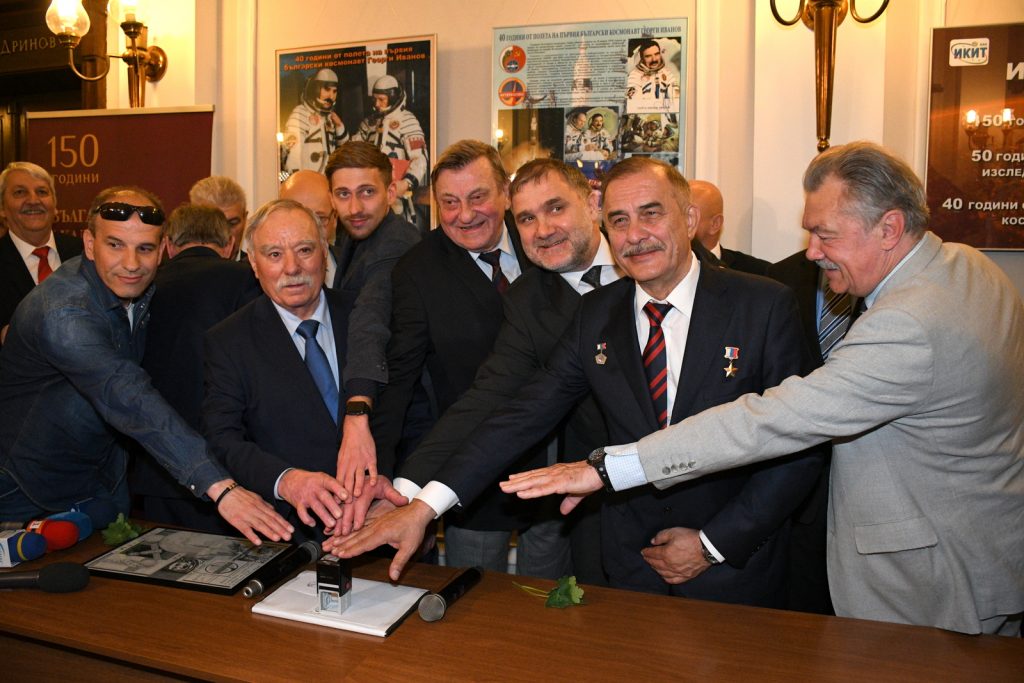 An exhibition of photographs from the flight of the first Bulgarian cosmonaut can be seen until April 14 at the Bulgarian Academy of Sciences. The exhibition is shown for the first time and is prepared by the Institute of Space Research and Technology of BAS.
Today is a good reason to remember that Bulgaria is only the sixth country that sent its citizen into space, said the Vice-President of BAS, corr.-mem. Kostadin Ganev, at the opening. He stressed out we must be aware that despite difficulties and systematic underfinancing of Bulgarian science, our scientists have found their place in the collective effort of humanity to study the cosmos.
A special jubilee stamp dedicated to the anniversary, with the face of the first Bulgarian cosmonaut, was validated during the opening of the exhibition. The stamp has been made by the artist Kristian Terziev.
Georgi Ivanov and the five European cosmonauts from the Intercosmos International Program – Pavel Vinogradov (Russia), Vladimir Remek (Czech Republic), Miroslaw Hermaszewski (Poland), Bertalan Farkas (Hungary), Ivan Bella (Slovakia), held a press conference before the media. Cosmonauts recounted memories of their travels in space, the Intercosmos program, and the opportunities it provided for the development of space science. Issues were raised as to whether there had been any action taken to solve the problem of space debris, the apparatuses of the Bulgarian academic institute flying with the International Space Station, the satellites of the Bulgaria 1300 programme and others.
Georgi Ivanov, Aleksandr Aleksandrov and the five visiting cosmonauts were awarded a plaque by the Institute of Space Research and Technology of BAS – for the establishment of the Republic of Bulgaria as a cosmic state.
The celebrations dedicated to the 40th anniversary of the flights of the first Bulgarian cosmonaut Georgi Ivanov will continue until 14 April in Sofia and Lovech. The events are under the patronage of the President of the Republic of Bulgaria Rumen Radev and with the partnership of the Ministry of Defense.