Prof. Julian Revalski, Full Member of BAS and Prof. Evdokia Pasheva, General Scientific Secretary, were on a working visit to the United States from April 21 to April 25, 2019. During the visit, they participated in a number of meetings at NSF (the National Science Foundation) in Washington, as well as at Harvard University.
The US National Science Foundation is an independent federal agency founded by the US Congress in 1950 to fund fundamental research. Its budget for 2019 is 8,1 billion USD. The purpose of the visit was to discuss concrete opportunities for the financing of bilateral scientific Bulgarian-American projects in priority areas and the steps to be taken by both parties to achieve this goal.
A number of meetings were held with managers and their associates in various departments: molecular and cell biology, organism biology, mathematics and physics, international cooperation department. The main topic of the discussions was to get acquainted with the different scientific programs funded by the various departments of the US National Science Foundation. Prof. Nikolai Lazarov, Chairman of the Executive Board of the National Science Fund of Bulgaria, also attended the meetings.
During the visit to Washington, the delegation was accepted by Mr. Tihomir Stoytchev, Ambassador Extraordinary and Plenipotentiary of the Republic of Bulgaria to the United States of America. The possibility of activating bilateral scientific cooperation at state level was discussed.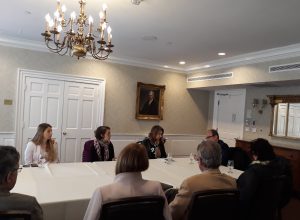 Academician Revalski and Prof. Pasheva visited also one of the most prestigious universities in the world: Harvard University. They were accepted by the Marshall of Harvard, Dr. Margot Gill. Marshall's position at Harvard was established in 1896, and one of the main duties was the reception of official high-ranking guests. Academician Revalski made a record in Harvard University's official book of visits on behalf of the Bulgarian Academy of Sciences.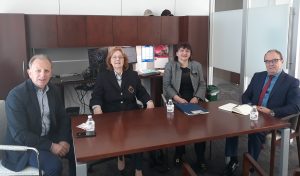 A meeting with the Bulgarian diaspora in Boston was held in Harvard where scientists and lecturers, as well as representatives of private companies, were present. The President of BAS and the General Scientific Secretary introduced the participants to the state and problems of science in Bulgaria and to the Bulgarian Academy of Sciences in particular. Our compatriots united around the idea of ​​intensifying the cooperation between the Bulgarian scientific diaspora and their colleagues in Bulgaria.