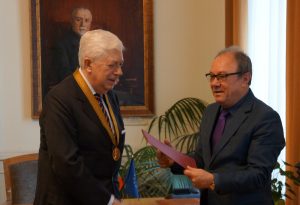 Prof. Dr. Massimo de Leonardis received the Honorary sign "Marin Drinov" of the Bulgarian Academy of Sciences at a ceremony held in the Academy on 21 May 2019. Prof. Julian Revalski, Full member of BAS and President of the Academy awarded Professor de Leonardis for his outstanding contribution in the field of historical science and the dissemination of the Bulgarian diplomatic and military history around the world.
Professor Massimo de Leonardis is one of the most prominent European scientists in the humanities, an undeniable authority on the issues of diplomacy, war and peace. He is a Professor of History of International Relations and Institutions and of International Politics at Milan Catholic University. He is also President of the International Commission on Military History at UNESCO and Adviser on Scientific Issues to the Navy of the Italian Republic.
He is the author of more than 190 scientific publications and 23 books in Italian, English, French, German and Spanish. Over the years, Prof. Dr. Massimo de Leonardis participated in a number of authoritative scientific forums and cultural initiatives in Bulgaria with the support of BAS. The outstanding merit for the International Commission of Military History to hold three world congresses in Bulgaria – with the participation of academic institutes of BAS – belongs to him. In August 2019, a fourth congress will be held again in Bulgaria.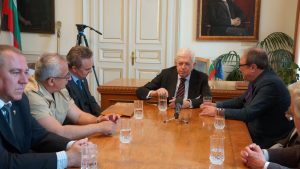 The ceremony was attended by H.E. Stefano Baldi, Ambassador of Italy, Major General Dr. Grudi Angelov, Commandant of "G. S. Rakovski" National Defence College, the Academicians Stefan Vodenicharov and Georgi Markov and representatives of the academic community.