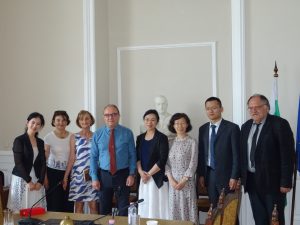 The President of BAS, Acad. Julian Revalski, the Vice-President, corr.-mem. Kostadin Ganev and the Scientific Secretaries Prof. Sevdalina Dimitrova and Prof. Kristalina Stoykova met with a delegation from the Institute of Scientific and Technical Information of China (ISTIC) at the Ministry of Science and Technology of China.
Prof. Revalski, Full Member of BAS, presented the scientific activity of the Academy in the field of information and communication technologies and emphasized the good cooperation between BAS and the Chinese Academy of Sciences over the years. On the Chinese side, the director of the Institute, Prof. Zhao Zhiyun, Associate Professor Guo Dezheng and Associate Professor Gao Fang introduced the scientists to ISTIC's work in the field of information technologies, artificial intelligence and information storage. This area of ​​scientific interest was identified as a priority for both parties and they expressed hope for future bilateral cooperation.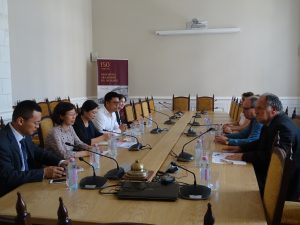 The visit of the delegation will continue at three institutes of BAS: the Institute of Information and Communication Technologies, the Institute of Electrochemistry and Energy Systems and the Institute of Mechanics.
As a research institute subordinate to the Ministry of Science and Technology of China, ISTIC's work is to support governmental agencies' decisions, including the Ministry of Science and Technology. The Institute provides comprehensive information services to researchers involved in technology and innovation as well as to businesses, universities and research institutes.