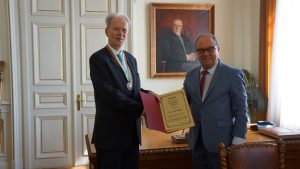 The Honorary sign of the President of BAS was presented to the French Ambassador H. E. Éric Lebédel at an official ceremony at the Bulgarian Academy of Sciences. The distinction was given for his significant contribution to the development of the Bulgarian-French relations in the field of science and culture and his active support for the role of BAS in this process.
During his term as Ambassador of the French Republic to Bulgaria, H.E. Lebédel has always made science and Bulgarian-French relations in the field of innovation and scientific excellence a priority. The role of the Bulgarian Academy of Sciences in promoting the scientific activity of both France in Bulgaria as well as Bulgaria in the French country has always been essential to his diplomatic activity.
This is evidenced by the number of world-renowned scientists who gave lectures in Bulgaria in the framework of the joint initiative between BAS and the French Institute "Meetings of Future", the renewed cooperation agreement with the National Research Center of France – CNRS, as well as the cultural events Museums Night and European Days of Cultural Heritage in which scientists from BAS institutes regularly participate. On the other hand, Bulgaria, as a Francophone country, contributes to the promotion of the French language and culture in Bulgaria as a tool for promoting cultural diversity within Europe and the world.