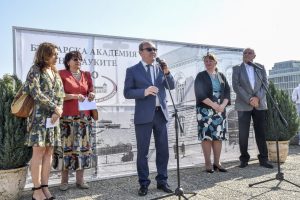 Achievements in all scientific areas are presented by the Bulgarian Academy of Sciences on the occasion of its 150th anniversary. The exhibition on the Lovers' Bridge at the National Palace of Culture will be demonstrating in 60 posters the history and activities of scientists at the Academy until 14 October.
The President of the Academy, Academician Julian Revalski and the Scientific Secretary-General, Prof. Evdokia Pasheva, opened today the exhibition dedicated to the 150th anniversary of the Academy. The official event in the open space near the National Palace of Culture was attended by the Deputy Minister of Education and Science Denitsa Sacheva, the Deputy Minister of Culture Rumen Dimitrov, Bilyana Genova – Director of Culture Directorate in Sofia Municipality, citizens and scientists from various scientific units of the Academy.
We follow the covenants of our predecessors who founded the Bulgarian Learned Society which grew into the Bulgarian Academy of Sciences, said the President of BAS in his speech. During the years, BAS has played a significant role in the development of the Bulgarian state, added Academician Revalski.
The Academy has contributed to the multiplication of the spiritual and material wealth of the Bulgarian people, said Prof. Evdokia Pasheva, Scientific Secretary-General. She presented the exhibition and recalled that BAS is a national scientific center with worldwide recognition. Many of the scientific results over the years have been developed in specific industrial technologies that are still used today. Examples are the method of counter-pressure casting, the detection of the photoelectret state of matter used for the creation of copiers, the development of lead-acid batteries, and more.
The Deputy Minister of Education and Science Denitsa Sacheva conveyed greetings on behalf of Minister Krasimir Valchev and in her own name. The Bulgarian Academy of Sciences is a guardian of the dignity of Bulgarian civilization, she said, and recalled the support that MES provides to the Academy through funding national science programs.
You want to know more about the Bulgarian computer Vitosha or about the first Bulgarian electronic calculator?
You want to see what a new generation robot looks like and find out who creates 3D embossed tactile plates with a semantic annotation in Braille alphabet?
Welcome to the Lovers' Bridge at NPC until October 14 to view the exhibition.
The exhibition also features innovative solutions for the battery industry, 3D images of computer-generated holograms, one of the most well-known methods: counter-pressure casting, a prototype photocatalytic air purifier for indoor air purification, original scientific equipment based on unique research methods, up-to-date projects and news from all scientific divisions of BAS.