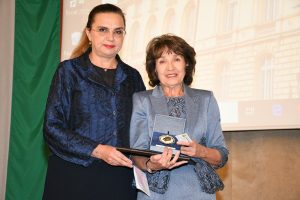 On World Vision Day, some of the most famous Bulgarian ophthalmologists participated in the conference "Prevention and Treatment of Vision-Threatening Diseases" at BAS. The President of BAS, Prof. Julian Revalski, DSc, opened the forum which was dedicated to the 150th anniversary of the Bulgarian Academy of Sciences and emphasized the leading role of the Academy as a national scientific and expert center.
The Medical University – Varna (MU) honored Academician Petya Vassileva with a plaque for her overall contribution to Bulgarian ophthalmology. The distinction was handed in by Prof. Christina Grupcheva, Vice-Rector of MU. This initiative is dedicated to the protection of vision. Vision is the dearest gift from nature, in these words Academician Petya Vassileva addressed the audience and recalled that with the exceptional capabilities of modern ophthalmology 80% of blindness can be cured.
At the opening of the conference, greetings were read by President Rumen Radev and Minister of Health Kiril Ananiev. Assoc. Prof. Mihail Okolijsky from the World Health Organization and Georgi Kolev, who is Deputy Chairperson of the Healthcare Committee at the National Assembly, congratulated the participants and guests.
Leading ophthalmologists spoke about the growing role of preventive medicine, the advancement of science and the development of technologies in this field, as well as new treatments. Childhood vision protection, glaucoma, cataracts, diabetes and the eye, macular degeneration, dry eye and keratoplasty were the main topics. Presentations were made by Assoc. Prof. Dr. Alexander Oscar – Head of the Eye Clinic at the University Hospital "Alexandrovska", Prof. Dr. Marin Atanassov – Department of Ophthalmology at Medical University – Plovdiv, Dr. Yordanka Kirilova – Specialist-Ophthalmologist, Specialized Eye Hospital "Acad. K. Pashev, Dr. Ilian Shandurkov – Eye Hospital "Vision", Prof. Dr. Christina Grupcheva – Head of "Department of Ophthalmology and Visual Science" at Medical University-Varna, Dr. Irina Kuneva – Ophthalmologist, "Zora" Eye Hospital.
The event was organized by the Department of Medical Sciences of the Assembly of Academicians and Corresponding Members (AACC) at BAS, the International Eye Foundation "Sight for All", the Patient Organization "Glaucoma" and the Specialized Eye Hospital for Active Treatment "Acad. K. Pashev". The Organizing Committee was chaired by Academician Petya Vassileva.
Recording of the event: https://www.youtube.com/watch?v=3DOlANbPyeM