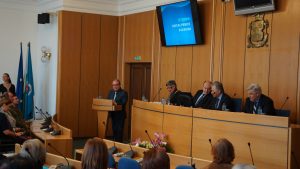 Three scientists from the Bulgarian Academy of Sciences will receive honors for excellence from the Union of Scientists in Bulgaria. This was announced at a solemn assembly on the occasion of the 75th anniversary of the Union by Prof. Diana Petkova. Prof. Angela Slavova-Popivanova from the Institute of Mathematics and Informatics, Dr. Radostina Ivanova from the Institute of Organic Chemistry with Center of Phytochemistry and Dr. Ivanka Petrova-Doycheva from the Institute of Mechanics will receive their awards at a special ceremony.
Acad. Damyan Damyanov, Acad. Yachko Ivanov and corr.-mem. Maria Popova were declared honorary members of the Union. The celebration took place in the premises of Sofia Municipality where the Union of Scientists in Bulgaria was established 75 years ago.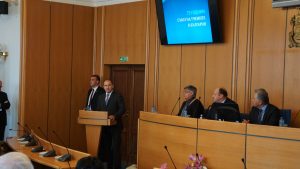 President Rumen Radev congratulated the participants in the solemn assembly and presented Prof. Diana Petkova with an honorary plaque for the overall contribution of the organization, its members and its scientific sections to the development of education and science in Bulgaria. We must continue to promote education and science as a strategic national priority, not just as targeted funding but as a modern vision for the nation's economic and cultural rise, President Radev said in his speech. He congratulated the Union of Scientists for developing and strengthening the academic capacity of the country and for the diligence it served with dedication and responsibility to the nation through science and education.
The Deputy Minister of Education and Science Karina Angelieva and the President of BAS Professor Julian Revalski, Member of the Academy, also congratulated the members of the Union of Scientists in Bulgaria. "You valiantly defend the achievements of Bulgarian scientists at home and abroad," said Prof. Revalski and reminded that the Union of Scientists in Bulgaria has always supported the Bulgarian Academy of Sciences. "We have a common task ahead: together to convince the state institutions that science should be a national priority that will turn Bulgaria into a modern European country", added Prof. Julian Revalski.
Nikolay Poppetrov of the Institute for Historical Studies of BAS delivered a speech about the history of the Union of Scientists in Bulgaria and its relationship with society.