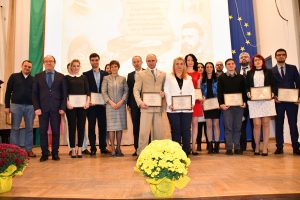 The Bulgarian Academy of Sciences marked the Day of the National Revival Leaders (also called the Day of Enlighteners) – 1 of November with a solemn joint celebration of the Assembly of Academicians and Corresponding Members (AACM) and the General Assembly (GA) of BAS. Seventeen young scientists – winners in the competition for young scientists "Prof. Marin Drinov" and for the youngest scientists "Acad. Ivan E. Geshov" were awarded by the General Assembly of BAS. The Minister of Education and Science Krasimir Valchev and the Chairman of GA of BAS Prof. Evelina Slavcheva handed in the awards at the celebration. The competition for young and youngest scientists "Ivan Evstratiev Geshov" is held every two years on the proposal of the Commission for Young Scientists to GA in the nine scientific fields.
The President of BAS, Prof. Julian Revalski, member of the Academy, welcomed the guests in the hall of the Academy which was named after Professor Marin Drinov, one of the most distinguished National Revival Leaders. The creation of the Bulgarian Learned Society 150 years ago is a clear example of national awakening which played a crucial role in the consolidation of the Bulgarian nation, said Prof. Revalski. He recalled the purpose of this act: "to develop spirituality at the national level and to spread it among other peoples."
The national awakening was also related to the promotion of research, culture and education at European and world level, said the President of BAS. He also addressed the scientists who were an example of assisting, with their activities, the deserving development of the state. "I believe that from the distance of our 150-year history, we are proud to say that we have made a significant contribution as enlighteners," said Prof. Revalski.
An academic speech on "Education, Science and National Values; on the ups and downs in the new Bulgarian being" delivered Assoc. Prof. Dr. Hristo Popov, Director of the National Archaeological Institute with Museum of BAS. The "hero" of his story was Prof. Petar Mutafchiev. In his speech, Assoc. Prof. Hristo Popov spoke about educated and prepared people who were national capital. He emphasized the successes, the value system of the Bulgarian people, its morals and life models. Education and science are sound foundations for prosperity and for the building up of every society, said Assoc. Prof. Popov.
The Minister of Education and Science Krasimir Valchev indicated that the big challenge was what we could do together. I am convinced that in the coming years we will rely much more on education and science. We need to find the formula for today's national awakening – to convey the spirit of knowledge and national values further, Minister Valchev said in BAS.