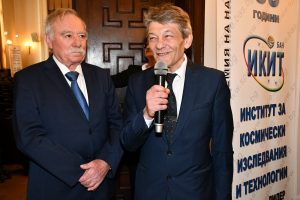 For 50 years, scientists at the Space Research and Technology Institute have made Bulgaria the 18th space state in the world, creating more than 150 devices which have been flying on the International Space Station and in orbit around Mars. The director of the institute, Prof. Rumen Nedkov, said that during the celebration. The solemn meeting on the occasion of the anniversary was held on 6 November in "Prof. Marin Drinov" Hall at BAS. Prof. Nedkov also emphasized that SRTI – BAS is in a long-term international partnership with institutions such as the European Space Agency, ROSCOSMOS and the space research institutes of Japan and India.
Owing to the tireless work of our colleagues, results that have nowadays put Bulgaria on the world map of space countries have been achieved, highlighted in his address the President of the BAS, Prof. Julian Revalski, Member of the Academy.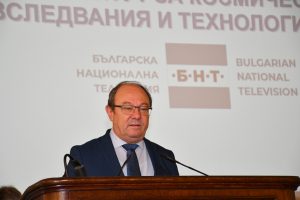 Congratulatory addresses were read by the President of the Republic of Bulgaria Rumen Radev, the Ministry of Economy, the Ministry of Education and Science, the Air Force, institutes of the Bulgarian Academy of Sciences, the Agricultural Academy, the Technical University – Sofia, UACEG, the National Defence College and others. The director of the Institute of Microbiology, Prof. Hristo Najdenski presented the plaque of the Institute in appreciation for the collaboration with SRTI.
The exposition which is arranged in the lobby of the Academy presents the achievements and the latest developments of the Institute as well as photographs not shown so far taken from the ship of the first Bulgarian astronaut Georgi Ivanov "Soyuz 33". I thank my colleagues at SRTI – BAS for convincing me to show these pictures, said the astronaut during its opening and wished the scientists their equipment to continue flying in space. The exhibition will run until 12 November 2019.