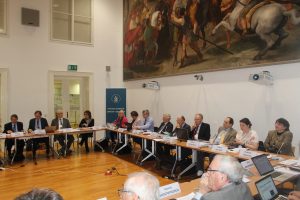 The Scientific Secretary-General of BAS Prof. Evdokia Pasheva attended a meeting of the European Academies' Science Advisory Council (EASAC) on 14 and 15 November in Zagreb, Croatia.
One of the topics of the meeting was the possibilities for researchers with their expert potential to contribute to policy-making on important social issues at national and European level. The various activities of the Academies concerning the development of strategic documents for the implementation of these policies were presented. The problem of using independent approaches to assess the impact of the overall work of the Academy among society and the political class was also discussed.
The European Academies' Science Advisory Council (EASAC) is formed by the national academies sciences of the EU member states, Norway and Switzerland. Through EASAC, academies work together to provide independent, expert, fact-based advice on the scientific aspects of European policies to those who make or influence policy within the European institutions.