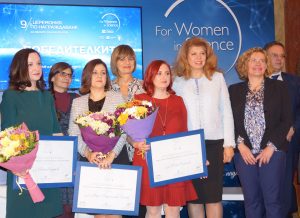 Dr. Mariya Dzhumalieva-Stoeva is one of this year's winners of the national scholarship "For Women in Science" for Bulgaria. The prestigious award was presented to her by Vice President Iliana Iotova at an awards ceremony held in Sofia University "St. Kliment Ohridski".
Dr. Dzhumalieva-Stoeva's is a postdoctoral student at the Institute of Mathematics and Informatics of BAS under the National Program "Young Scientists and Postdoctoral Students" funded by the Ministry of Education and Science as well as Chief Assistant Professor of Computer Science at "St. Cyril and St. Methodius" University of Veliko Tarnovo. Her research focuses on coding theory and the study and classification of certain types of codes that are directly applicable to the protection of information, both from tampering and unauthorized access.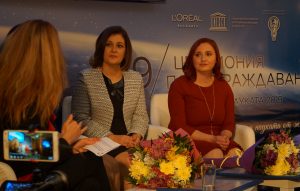 "If we lend a hand to young women and provide them with appropriate education with a taste for research and discovery, special science programs, easier access to funding, more career opportunities, the results will be beneficial to our entire society," Vice President Iotova said at the ceremony.
The other two award holders, from Sofia University "St. Kliment Ohridski", are Dr. Eugenia Sarafova for the project" Green urban areas and public health – analysis and evaluation of the four largest Bulgarian cities through remote sensing and crowdsourcing of mobile applications" and Dr. Julia Romanova for the project "Chemical functionalization and typology: a new strategy for the design of high-performance photovoltaic materials."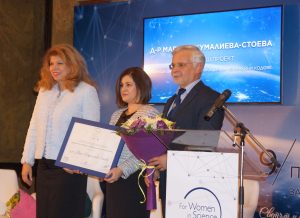 The 'For Women in Science' initiative of L'Oréal and UNESCO began in 1998 and in Bulgaria in 2010. Since its founding, more than 3100 talented women scientists (PhD students and postdoctoral students) have been honored with scholarships awarded each year in 117 countries. The organizers of the event are Sofia University "St. Kliment Ohridski", L'Oréal Bulgaria and the National Commission for UNESCO – Bulgaria.
The new, 10th edition, of the National Scholarship Program is going to start on 1 December 2019. More information at www.zajenitevnaukata.bg