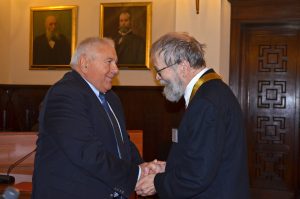 The honorary sign of the Bulgarian Academy of Sciences "Marin Drinov" on ribbon was conferred to Prof. Anatoly Turilov, a paleoslavic historian at the Institute of Slavic Studies of the Russian Academy of Sciences. This took place during the opening of the international conference "Routes of Literary Communication of the Eastern and Southern Slavs in 11-20 Centuries" on 21 November in "Prof. Marin Drinov" Hall of BAS.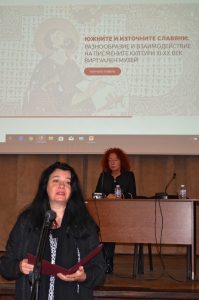 The award is given for the outstanding contribution of Professor Turilov in the study of Bulgarian original and translated literature from the Middle Ages and its manuscript tradition. The Russian researcher is one of the few specialists in the world who identifies, according to paleographic and codic data, circles of manuscripts belonging to certain schools.
The two-day conference under the European program ERA NET Rus Plus was opened on the day of the Institute of Literature. Professor Joanna Spassova, Scientific Secretary of Cultural-Historical Heritage and National Identity division extended greetings on behalf of the President of BAS, Professor Julian Revalski, member of the Academy. In recent years, the Institute of Literature has established itself as a respected national, scientific institution, and the high professionalism of its scientists has made it a preferred partner for basic and applied research, an attractive center for free and tolerant intellectual communication, was said in the congratulatory address.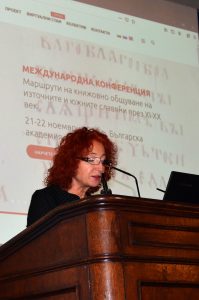 The conference was opened by the director of IL-BAS, Assoc. Prof. Elka Traykova, who emphasized that it was difficult to do humanities nowadays and reminded that if society and its institutions did not show responsibility for humanitarian knowledge but also for science as an innovation in general, it meant that we were really in a situation of spiritual regression. The humanities can show clearly, firmly and understandably that it is creating a future for all of us. And scientists today will be able to preserve the memory and wisdom for future generations with the help of modern technologies.
An example of this is the virtual museum, resented by Prof. Anisava Miltenova, realized within the framework of the trilateral European project ERA NET Rus Plus. It interprets the diversity and interaction between the written cultures of the peoples of the Balkans and the Eastern lands and is based on a digital archive of sources, photographs, manuscripts, images and texts.