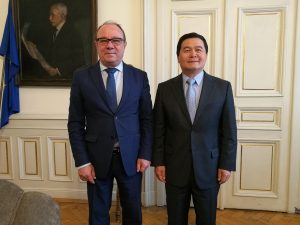 Bulgarian-Chinese relations in the area of science were discussed at a meeting by the President of BAS, Acad. Julian Revalski and the Ambassador of the People's Republic of China, HE. Dong Xiaojun. The meeting was also attended by the Scientific Secretary-General, Prof. Evdokia Pasheva.
Many of our institutes have direct contacts with Chinese counterparts and are working on joint projects, said Academician Revalski, and underlined that deepening relations between the two countries in the field of research and innovation would be extremely beneficial. His Excellency Dong Xiaojun added that a good example was the Economic Research Institute of BAS which had signed a cooperation agreement with the Institute for Development Studies at Fudan University, China, in 2018.
The opportunities to introduce joint programs for the exchange of young scientists and PhD students from the Bulgarian Academy of Sciences and Chinese universities and institutes were also discussed at the meeting.