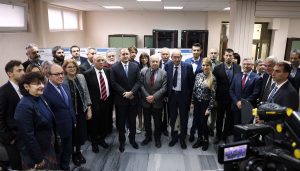 The Institute of Information and Communication Technologies of BAS has created a high world-level system that has all the elements: scientific infrastructure, proven progressive ideas and methods of scientific research. This was said by the President of the Republic of Bulgaria Rumen Radev during his visit to the Institute on 10 of December. He pointed out that the most important capital is the people – highly prepared, motivated and committed to success. That is why Bulgaria, with what you have done, is positioned on the world innovation map, the President addressed the scientists.
He became acquainted with the capabilities of the high performance computing systems located in the Center of Excellence built at the Institute. The meeting was attended by the President of BAS, Acad. Julian Revalski, the Scientific Secretary-General, Prof. Evdokia Pasheva, Academicians, scientists and doctoral students of IICT – BAS.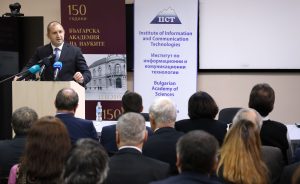 President Rumen Radev emphasized that the existence of such an institute as well as the Center of Excellence is a request for ambiguous goals. The power of a modern state is no longer just industrialization but also its information potential, he said. The Head of State explained that the ability to collect vast amounts of information, to be able to process it and then by an important criterion, to sift through the false from the real data, to know the algorithms with which it can be converted into knowledge that you can use before others – this is the secret of economic success in our time.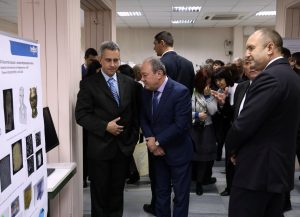 Corresponding Member Svetozar Margenov presented the results so far on the largest project of the Institute of Information and Communication Technologies – Center of Excellence in Informatics and ICT. The project focuses on building a two-stage scientific infrastructure, he said. A data center will be opened by mid-2020, and the next stage will be the introduction of the new supercomputer and the 3D Digitization and Microstructural Analysis Laboratory, announced corr.-mem. Margenov.
The Scientific Secretary of the institute, Prof. Aneta Karaivanova, presented the main achievements of IICT – BAS which define it as a national and regional leader in the field of informatics and ICT. A hundred and five scientists and PhD students work on over 100 projects a year, she said. Twenty-four of them are under applied research contracts funded by Bulgarian and foreign companies. She added that more and more businesses are looking for the institute to solve complex engineering problems.