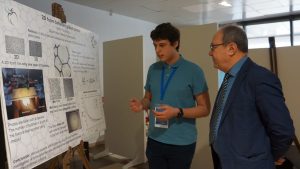 Young talents present 15 projects in the field of natural sciences within the jubilee science fair "150 Years of the Bulgarian Academy of Sciences". The two-day event is organized by the Institute of Mathematics and Informatics with the support of the Ministry of Education and Science and is being held in the conference hall of the Ancient Cultural and Communication Complex "Serdika" (Sofia Largo).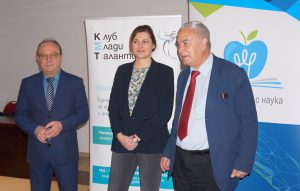 Part of the mission of the Bulgarian Academy of Sciences, as early as its establishing 150 years ago, has been to work for the accumulated knowledge to be passed on to the younger generation. This was said by the President of BAS Prof. Julian Revalski, full member of the Academy, at the official opening on 13 December. He emphasized that the aim of the Academy had always been to sow the seed of the research spirit among as many young people as possible so that they could continue in the future with their scientific careers.
The event was opened by the Deputy Minister of Education and Science Karina Angelieva. She indicated that MES has a desire, together with the High School Student Institute of BAS, to organize and promote this competition throughout the country. We need to support those of you who have the talent, the knowledge but also the intrinsic motivation to engage in science, Karina Angelieva addressed the pupils.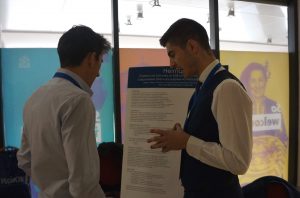 On 14 December, from 15:00 o'clock, stands will be put in front of the fair hall presenting activities under the "Education with Science" programme. Colleagues from institutes and museums of the Bulgarian Academy of Sciences will be demonstrating the activities of their projects on them. The official award ceremony will be at 18:00 o'clock. The award-winning pupils of the fair will represent Bulgaria at the International Science and Engineering Fair 2020 (ISEF) to be held in May 2020 in Anaheim, USA as well as at Expo Sciences Luxembourg.
The Science Fair "150 Years of the Bulgarian Academy of Sciences" is organized within the framework of the joint program of BAS and MES "Education with Science", which has started earlier this year. Its main purpose is to discover scientific talents at an adolescent age, to assist in their future development and to provide an international forum for their ideas, discoveries and innovations.
More information about the "Education with Science" programme can be found on the programme's website.