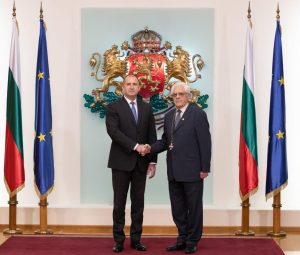 At a solemn ceremony held on 31 January 2020 in the "Coat of Arms Hall" on 2, Dondukov Blvd., President Rumen Radev honored Prof. Hristo Balarev of the Institute of General and Inorganic Chemistry – BAS with the Order "St. Cyril and Methodius" – pendant for especially significant merits in the field of general and inorganic chemistry.
The high state distinction is recognition of Prof. Balarev's scientific achievements in the field of structure and stability of crystalline hydrated salts, in modeling, scientific forecasting, research, interpretation and clarification of interactions occurring in various inorganic systems, as well as of his teaching, organizational and public activities.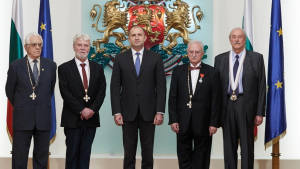 "The highest state honors are an expression of gratitude of our entire society for your dedicated work which places Bulgaria alongside nations developed in the fields of science, culture and medicine. The wide range of activities in which you invest your energy is another sign of our nation's vitality," said President Rumen Radev in his speech.
photo: president.bg