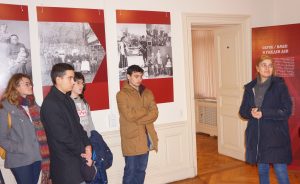 The High School Students' Institute of BAS organizes a training seminar for small learning & research communities (teams of a teacher and students) under a project funded by the Ministry of Education and Science. The seminar is being held on 5 and 6 February with the participation of more than 20 teachers and 40 students from 10 cities in the country with an interest in scientific research.
During the two-day seminar, trainings are held to build scientific text creation skills, to develop communication and presentation skills and to apply research methods. The meeting provides an opportunity for teachers and students to share experiences and maintain contacts also in the future.
The lecturers are Prof. Emilia Chengelova (Institute of Philosophy and Sociology – BAS), Assoc. Prof. Evgenia Sendova (Institute of Mathematics and Informatics – BAS), Dr. Iglika Mishkova (National Ethnographic Museum at the Institute of Ethnology and Folklore Studies – BAS) and Assoc. Prof. Milen Tomov (Institute for Bulgarian Language – BAS).
The teams are working on the topics "Application of Nanotechnologies in Electronics and Medicine", Bee Colony Collapse Syndrome, "Ideas and Beliefs Reflected in Legends and Rituals", "Clothes as a Biographical and Ancestral Narrative", "Genetic Diversity, Phylogenetics and Evolution of the Bulgarian and Balkan flora, "Education: right or obligation", Creative laboratory – the text "Georgi Markov".
The participants visited the Educational Center of the National Ethnographic Museum of BAS where they got acquainted with the topics Ethnography and Museum and Family and Memory (family tree).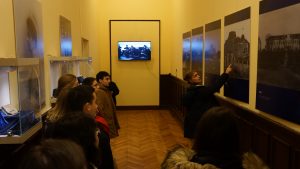 The training seminar is a project of the "High School Students' Institute of BAS with small learning & research communities", part of "Education with Science" – a joint program of the Bulgarian Academy of Sciences and the Ministry of Education and Science.
The young researchers will present the results of their work at the Students' Science Session. It will be held in November 2020.