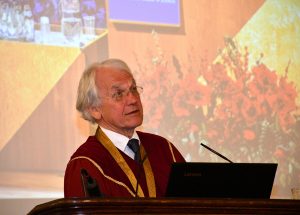 The laser with ultra-high intensity pulses is 1000 times more powerful than the World Energy Network. This was said by the Nobel Prize winner in Physics 2018, Professor Gérard Mourou, during his lecture. The French scientist was honored with the title of Doctor Honoris Causa by the Bulgarian Academy of Sciences for his achievements in the field of laser science and technology at a ceremony held on 25 February in the "Marin Drinov" Hall of the Bulgarian Academy of Sciences.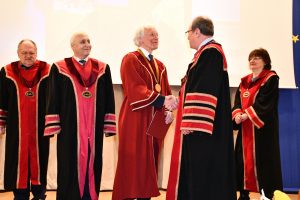 Few world-renowned Nobel Prize laureates are working so actively to involve Bulgaria and institutes of BAS in European research infrastructures. Prof. Mourou is one of them, highlighted the President of BAS Prof. Julian Revalski, full member of the Academy, in his presentation. One of Professor Mourou's most significant contributions to the development of laser physics in Europe and Bulgaria is the creation of the Extreme Light Infrastructure (ELI) project.
In the lecture on "The passion for extreme light and its application to the benefit of humanity", Prof. Mourou spoke about the two most important for society applications of high-power lasers that his research was focusing on: in medicine, where they can be used for hadron therapy and in environmental protection – for reducing nuclear waste and producing carbon-free energy.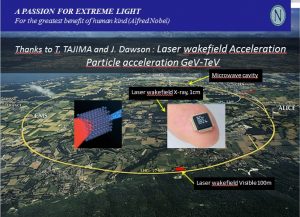 After the ceremony, Prof. Mourou discussed with the leaders the Bulgarian consortium of ELI-ERIC-BG which included the Institute of Electronics of BAS, the Institute of Solid State Physics of BAS and the Faculty of Physics of Sofia University "Kliment Ohridski" and Dr. Milena Damyanova, Director of the Science Directorate at the Ministry of Education and Science, the future participation of Bulgaria in this important international project.