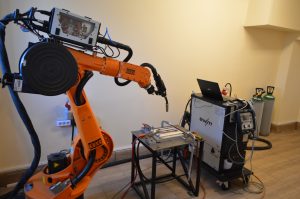 A robotic complex for electric arc additive layer manufacturing has been put into operation at the Institute of Electronics of BAS. The technology is applied under the project "High strength nano reinforced aluminium powder cored wire for arc based ALM" within M-ERA network.
The project envisages the development of an unparalleled new aluminum wire with a composite core consisting of aluminum powder with integrated carbon nano structures (AluNanoCore). The wire is designed for free flexible generation of lightweight components with high strength properties by the method of additive layer manufacturing (ALM). The influence of the concentration, size and shape of the carbon nanostructures (CNS – a mixture of nanofibers and nanotubes) in the wire on the properties of the arc deposited layers will be studied. CNS will be synthesized directly on the surface of the aluminum powder from the gas phase which will allow them to be homogeneously distributed in the composite core. With the created cored wire, prototypes of products with increased mechanical properties will be made by the ALM method in comparison with cast ones from conventional aluminum-silicon alloys.
The development is the result of long-term cooperation of scientists from the Laboratory of Physical Technologies of the Institute of Electronics and the Department of Joining and Welding Technology of Brandenburg University of Technology, Cottbus, Germany.
The project coordinator is Prof. Vesselin Michailov from Brandenburg University of Technology in Germany. The head of the research team from the Institute of Electronics is Prof. Petar Petrov, DSc.
German industrial partners in the project are MIGAL.CO GmbH, GEFERTEC GmbH, KSC and Kraftwerks – Service Cottbus Anlagenbau GmbH.