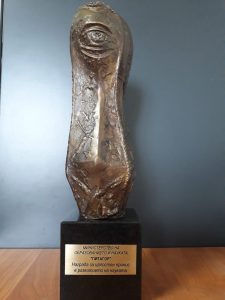 Five scientists from the Bulgarian Academy of Sciences received the "Pythagoras" Award of the Ministry of Education and Science for their contribution to the development of science. The award is presented for the twelfth consecutive year. The award ceremony of Pythagoras 2020 was broadcast on 24 May on Bulgarian National Television, and the awards were presented by EU Commissioner Mariya Gabriel and the Minister of Education and Science Krasimir Valchev.
The Grand Prize for overall contribution to the development of science was awarded to Academician Nikola Sabotinov (President of BAS 2008-2012) and Corresponding Member Konstantin Hadjiivanov, Vice-President of BAS. The award was presented by the Minister of Education and Science Krasimir Valchev. I accept this award with gratitude, as a recognition for my long-term scientific activity in the field of laser technologies which have found application in the world and Bulgarian scientific practice, said Acad. Nikola Sabotinov. On his part, Corresponding Member Konstantin Hadjiivanov thanked his collaborators. "Without all of them, I would not have achieved these results in science", said Corr. Member Hadjiivanov.
The Pythagoras Grand Prize 2020 for Young Scientists was also awarded to two people: Assoc. Prof. Dr. Ina Aneva of the Institute for Biodiversity and Ecosystem Research and Assoc. Prof. Dr. Sunay Ibryamov from Shumen University. This award is an impetus for new challenges. With these words, Assoc. Prof. Ina Aneva accepted the award and added that she was grateful for the opportunity to work and develop at the Bulgarian Academy of Sciences where young people received attention and support from their established colleagues.
The Pythagoras Prize 2020 in the category "Supercomputer Applications and Big Data Analysis" is also in the possession of a scientist from BAS. Prof. Dr. Emanouil Atanassov from the Institute of Information and Communication Technologies is the recipient. The prize was presented by the General Manager of Hewlett Packard Bulgaria Iravan Hira. Even the most powerful computers will not have a heart and soul if it were not for the scientists who created the applications for them, he said. The award in the category "Natural and Engineering Sciences" is for Assoc. Prof. Dr. Milen Georgiev from the Institute of Microbiology of BAS who is the winner of this award for the third time.
More information and photos: https://naukamon.eu/pitagor2020/