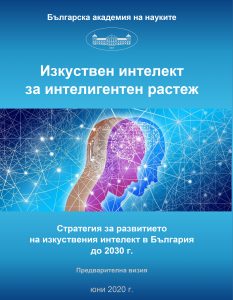 A team of scientists from the Bulgarian Academy of Sciences and attracted external experts developed a draft National Strategy for the Development of Artificial Intelligence. The aim is to support the creation of strategic documents for the digital transformation of Bulgaria in the next decade. The proposed project is based on European Commission documents that consider artificial intelligence as one of the main drivers of digital transformation in Europe and a significant factor in ensuring the competitiveness of the European economy and high quality of life. The specific aspects of the European vision for the creation of "reliable artificial intelligence" are outlined, in which technological progress is accompanied by a legal and ethical framework to ensure security and consumer rights as well as measures to collect accessible data of high quality, wide dissemination of information and equal access to the benefits of artificial intelligence technologies.
The main prerequisites and challenges for the development of artificial intelligence in Bulgaria for the period 2020 – 2030 are presented. The goal of the Strategy is defined and the main areas of impact and specific measures needed to achieve significant results are identified.
Priority sectors have been proposed for the first stage of implementation of the Strategy (2021-2023) – scientific and applied research; smart agriculture; intelligent data retrieval in healthcare. The document is to be published for public discussion.
The project is based on the National Strategy Framework for the Development of AI in Bulgaria, submitted by the team to the Council of Ministers on 1 July 2019.