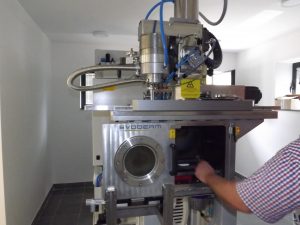 Young scientists from the Institute of Electronics of BAS and the Technical University in Gabrovo are part of the team that will work with the innovative installation Evobeam cube 400 for electron beam welding and modification of materials. The installation is fully automated and allows performing technological activities in standard 4.0, related to the modernization and competitiveness of the Bulgarian economy.
The equipment is worth BGN 821 449 and is part of the laboratory "Intelligent technologies based on intensive energy flows" of the Center of Competence "Smart mechatronic, eco and energy-saving systems and technologies". The laboratory is located in Gabrovo, and it will carry out applied research in the field of electron beam welding and surface modification of metals and alloys for the needs of mechatronics. The head of the laboratory is the director of the Institute of Electronics of BAS, Prof. Petar Petrov.
The long-term experience of the scientists from the Institute of Electronics in the field of basic research in interaction of intensive energy flows with materials will be realized in the development of technologies for electron beam welding and surface modification of parts and components for mechanical engineering, mechatronics, aviation and military industry, medicine and other sectors of the economy.
The method, which is applied by using the innovative Evobeam cube 400 installation, allows precise joining of components, preserving up to 80% of the technical characteristics of the materials. The equipment pre-scans the components to be joined, preventing cracks in the parts and controlling the final result. The precision of electron beam welding performed with the new equipment will support the development and application of new materials and alloys with unique physical and mechanical properties.