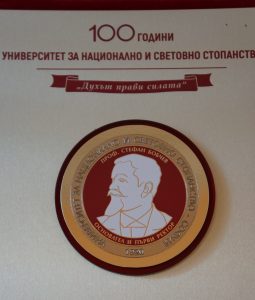 The President of BAS Prof. Julian Revalski, Full Member of the Academy, participated in the opening of the jubilee hundredth academic year of the University of National and World Economy. In his speech to teachers and students, he focused on the work of the founder and first rector of UNWE Prof. Stefan Bobchev who is among the members of the Bulgarian Learned Society which has grown into the Bulgarian Academy of Sciences.      
Prof. Bobchev, in his capacity as Minister of Public Education, submitted for discussion to the National Assembly the first bill on the transformation of the Bulgarian Learned Society into the Bulgarian Academy of Sciences, as well as the first Law on BAS (1911), reminded Prof. Revalski.
I admire the enthusiasm and high spirit shown by scientists and the political elite for the establishment of your university at a time when industrialization was gaining momentum and it was clear that Bulgaria needed specialists in this field. I am glad that BAS has contributed to this remarkable act, said Academician Julian Revalski.
The academic year was opened in the "Maxima" hall of UNWE. Among the official guests were also the Minister of Transport, Information Technology and Communications Rosen Jeliazkov, the rector of Sofia University "St. Kliment Ohridski" and Chairman of the Council of Rectors of Higher Education Institutions in the Republic of Bulgaria Prof. Anastas Gerdjikov, BNB Governor Dimitar Radev and Daniel Parushev, Chairman of the National Representation of Student Councils.