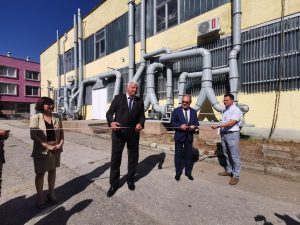 The Research Center in Mechatronics and Clean Technologies at the Central Laboratory of Applied Physics of BAS in Plovdiv is an example of how research leads to innovation. This was said during the official opening of the complex by the President of the Academy, Prof. Julian Revalski, Full Member of BAS. He added that he was glad that this was happening in a city with a developed technological industry such as Plovdiv.          
The event took place on 17 September and was attended by the mayor of the city Zdravko Dimitrov, representatives of the municipality, "Science and Education for Smart Growth" OP, scientists and guests. The mayor thanked the Bulgarian Academy of Sciences for developing Bulgarian science by cooperating with business.
Assignments from over 30 companies are received annually by scientists from the Central Laboratory, and only for the period since the beginning of the year so far the technological orders executed by the laboratory are over 150, including from companies from abroad, said the head of the research center Prof. Rumen Kakanakov. In this sense, the Research Center and the Central Laboratory of Applied Physics of BAS are a good example of how science can be useful for the development of industry.
In her presentation, Assoc. Prof. Lilyana Kolaklieva, team leader of the laboratory at the Center of Excellence, presented the ongoing activities for the construction of the Cleanroom and explained that the research carried out in it is used in areas such as mechanical engineering, automotive industry, metalworking, energetics, medicine and dentistry.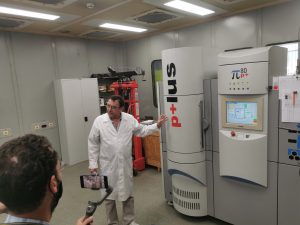 The center is located in a Cleanroom class 100 000 with two complexes: technological and research which are supplied with equipment that is unparalleled in our country. In this infrastructure complex, scientific, applied scientific and innovative activities are carried out for development and research of new functional materials for surface modification (including nanostructured and nano-sized ones).