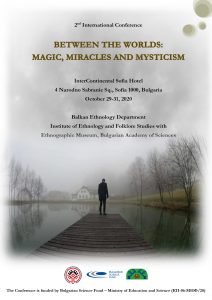 The International Scientific Conference "Between the Worlds: Magic, Miracles, and Mysticism" (BEW 2020) will be held on 29-31 October 2020 in Sofia with working language English. It is part of the series "Between the Worlds" (the first scientific forum was held in 2017) and is funded by the Bulgarian Science Fund at the Ministry of Education and Science under the programme to support international forums in Bulgaria. The organizing committee of the conference is international and includes both established scientists and young researchers and PhD students.
The idea of the conference is related to the magical and mystical perceptions, experiences, views, beliefs and practices that are becoming increasingly visible in today's globalized world. The wonders of nature, sacred places, icons and cultural monuments continue to gather many believers every year in different parts of the world. These magical and mystical practices testify to the fact that people still want to know the unknown and touch what cannot be seen. Contact spaces between humans and supernatural forces have different social and cultural aspects and directly influence the identification strategies of communities.
The conference will present a total of 70 papers, including 3 lectures (keynote speeches) by prominent researchers in the field from Great Britain, Norway and Greece. Scientists from 21 countries in Europe, Asia, Africa and North America will take part in the event. A collection of articles is also being prepared which will be published soon in an open access electronic collection.
In view of the pandemic situation in the country, the conference will be held in a hybrid form.
More information can be found on the conference website. If you wish to view individual panels, you can request it at the following address: pr@iefem.bas.bg.