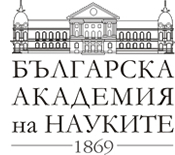 Young scientists from the Bulgarian Academy of Sciences were awarded at the Seventeenth National Youth Scientific and Practical Conference organised by the Federation of Scientific Technical Unions in Bulgaria. The official award ceremony took place on 17 December 2020.
In the division "Energy and Energy Resources", Chief Assistant Professor Angel Demerdjiev and Dobromir Dimitrov, PhD student at the Institute for Nuclear Research and Nuclear Energy of BAS, won the first prize. Their distinction was given for the development of "Monte Carlo Simulations for Shielding Analysis of the TR-24 Cyclotron".
The award is a well-deserved appreciation for the achievements of the young scientists. In their paper, they review the results of the radiation protection analysis of the TR-24 Cyclotron bunker, obtained by conducting numerical simulations based on Monte Carlo techniques using the FLUKA code. The analyses and the results obtained by them are valuable because they will contribute to the effectiveness of radiation protection of the cyclotron bunker after putting into operation the facility by the Institute for Nuclear Research and Nuclear Energy at BAS.
In the division "Chemical Sciences and Technologies", the second prize was awarded to Ognyan Petkov and Angelina Stoyanova-Ivanova from the Institute of Solid State Physics for their report "Superconducting BSCCO ceramics as an additive to alkaline Ni-Zn batteries". Their work is a summary of a series of studies that have led to a protected patent. The benefits of the additives are presented and proven in the development. Thanks to them, alkaline batteries have a longer life and a more stable capacity.