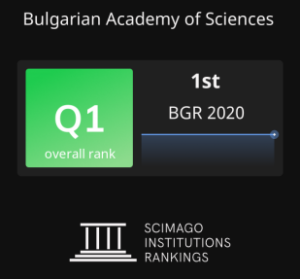 The Bulgarian Academy of Sciences is on the first place in Bulgaria among the scientific organisations for 2020 according to the presented ranking of the SCImago research evaluation platform (SIR) for the past 2020 (https://www.scimagoir.com/rankings.php? country = BGR).
The ranking covers 7024 academic and research institutions which are evaluated through their visibility in the network on three different sets of indicators based on the results of: research, innovations and social impact. In the last two years, seven institutes of BAS have been included in the ranking, and for the last year the results from the five-year period 2014-2018 have been used.
It should be also noted the very good place occupied in this prestigious ranking by three of the institutes of the Academy – Institute of Organic Chemistry with Center for Phytochemistry (third place), Institute for Nuclear Research and Nuclear Energy (fifth place) and "Acad. Emil Djakov" Institute of Electronics (sixth place).