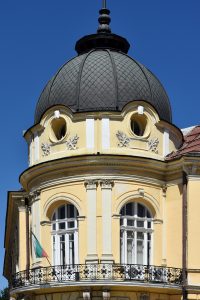 The General Assembly of the Bulgarian Academy of Sciences elected eight scientific secretaries of the Academy. The election is in connection with the expiration of the term of office of the scientific secretaries of BAS. The discussion and vote took place at a meeting on 8 February.
The following were elected Scientific Secretaries with a mandate of 2021-2024:
Division of Information and Communication Sciences and Technologies – Assoc. Prof. Dr. Ivan Georgiev, Institute of Information and Communication Technologies at BAS;
Division of Energy Resources and Energy Efficiency – Prof. Sevdalina Dimitrova, DSc (second term), Institute for Nuclear Research and Nuclear Energy at BAS;
Division of Nanosciences, New Materials and Technologies – Prof. Margarita Popova, DSc, Institute of Organic Chemistry with Center for Phytochemistry at BAS;
Division of Biomedicine and Quality of Life – Prof. Nina Atanassova, DSc (second term), Institute of Experimental Morphology, Pathology and Anthropology with a museum at BAS;
Division of Biodiversity, Bioresources and Ecology – Assoc. Prof. Ina Aneva, PhD, Institute of Biodiversity and Ecosystem Research at BAS;
Divisions "Climate Change, Hazards and Natural Resources" and "Astronomy, Space Research and Technology" – Assoc. Prof. Denitsa Borisova, PhD, Institute for Space Research and Technology at BAS;
Division of Cultural-Historical Heritage and National Identity – Assoc. Prof. Elka Traykova, PhD, Institute of Literature at BAS;
Division of Man and Society – Prof. Ergul Tair, PhD (second term), Institute for Population and Human Studies at BAS.
Habilitated scientists with main job at BAS may be elected scientific secretaries. They assist the President and the Scientific Secretary-General in the operational management of the Academy.
The eighth session of the VIII General Assembly of BAS was held by videoconferencing and face-to-face voting according to a pre-specified schedule and compliance with all anti-epidemic measures.