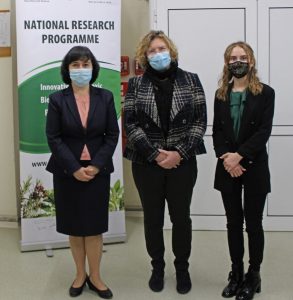 The Ambassador of the Republic of France to Bulgaria, H.E. Florence Robin, visited the Stephan Angeloff Institute of Microbiology (IMicB) together with Veneta Salyahetdinova, a tenth-grader from Blagoevgrad, winner of the "Ambassador for a Day" competition. The director of the institute, Prof. Penka Petrova, presented the laboratories of the departments "Immunology", "Virology" and Laboratory Center "Pasteur", which carry out research to counter the pandemic of COVID-19.
The Department of Immunology is developing two research projects funded by the Institut Pasteur in Paris. The VacciNanoCor project is led by Prof. Andrey Tchorbanov and aims to develop a Bulgarian vaccine against SARS-Cov-2. The young scientist Dr. Milena Leseva told about the progress of the project "m6A_RAIAV" related to research on socially significant diseases such as rheumatoid arthritis and influenza. The Department of Virology studies the mechanisms of antiviral action of disinfectants and potential drugs, as well as analyses polymeric materials for protective masks and clothing. Veneta Salyahetdinova was impressed by the opportunities for development of young scientists in Bulgaria and their scientific achievements.
Prof. Petrova emphasized that as an institute from the international network of institutes "Pasteur", IMicB has always maintained excellent relations with the Embassy of the Republic of France. H. E. Florence Robin thanked for the warm welcome and the opportunity to get acquainted with the progress in the development of the Bulgarian vaccine. Mr. Svetoslav Milanov, Attaché for University and Scientific Cooperation of the French Embassy, shared his confidence in continuing the fruitful cooperation in the future.