Erasmus+ Programme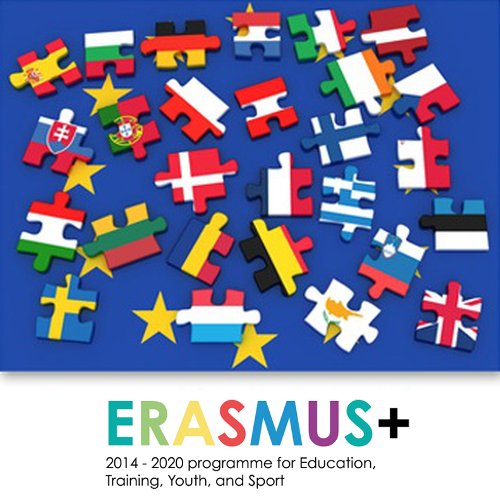 The European program for education, training, youth and sport "Erasmus+" was launched on January 1, 2014 and would continue until 2020. It combines seven programs that existed until the end of 2013: Lifelong Learning Program (Erasmus, Leonardo da Vinci, Comenius, Grundtvig, Study visits), Youth in Action, Erasmus Mundus, Tempus, Alpha, Edulink and the two-way program cooperation with industrialized countries. This seven-year program has a budget of € 14.7 billion – an increase of 40% over previous years, which the EU's commitment to investing in these areas.
As a Higher Education Institution (BAS teaches doctoral students), the Bulgarian Academy of Sciences has an Erasmus University Charter which gives access to the activities envisaged in the program.
A Mobility Project within the Program includes:
1. Mobility of PhD students, regardless of the form of training, for min. 3 and max. 12 months in order to attend courses at the host Higher Education Institution or to develop a dissertation, without paying any tuition fees. The program grants monthly financial assistance while the duration of doctoral studies is not interrupted during mobility and the students continue to receive their scholarships at the Bulgarian Academy of Sciences;
The goal is to achieve positive and lasting effects on participants and participating organizations. As far as PhD students are concerned, they are:
Better learning outcomes;
Greater job opportunities and career prospects;
Enhanced entrepreneurship and entrepreneurial skills;
Higher self-esteem and motivation;
Better language competences;
Better understanding of intercultural peculiarities;
More active participation in society;
A better understanding of the European project and the values ​​of the EU;
Increased motivation to participate in future (formal or informal) education or training after the period of mobility abroad.
2. Mobility of scientists and administrative staff for the purpose of lectures and training for min. 2 days to max. 2 months without counting the days of travelling. The program provides a daily grant for 5 days and a travel gtant. The mobility of scientists and administrative staff is aimed at achieving the following results:
Enhanced competencies related to the professional profile;
Greater understanding of policies and systems in education and training across countries;
Enhanced opportunities for change to modernize and internationally open educational institutions;
A better understanding of the interrelations between formal and informal education and the labor market;
Better quality of work in favor of PhD students;
Greater understanding and responsiveness to social, linguistic and cultural diversity;
Increased opportunities for professional and career development;
Improved language competencies;
Increased motivation and satisfaction from everyday work.
A pre-concluded inter-institutional agreement between the Bulgarian Academy of Sciences and a host university is a prerequisite for applying for mobility, a request for which can be made at the Erasmus office if there are established contacts.
Participating Countries (Program Countries):
EU Member Countries: Austria, Belgium, Denmark, Estonia, Ireland, Spain, Italy, Cyprus, Latvia, Lithuania, Luxembourg, Malta, Netherlands, Poland, Portugal, Finland, France, Croatia, Czech Republic, Sweden;
EEA member countries: Norway, Iceland, Liechtenstein;
Candidate countries: Turkey, Macedonia.
Documents
Institutional Coordinator
Prof. Evdokia Pasheva, DSc
Scientific Secretary-General
Phone: (+359 2) 979 5231
E-mail: eva@bio21.bas.bg
Erasmus+ Office
BULGARIAN ACADEMY OF SCIENCES
Erasmus code: BG SOFIA30
Erasmus office: 1 "15 Noemvri" Str., 10400 Sofia
Mobility of students:
Veneta Nikolova, Head of Department
International Relations
Phone:(+359 2) 979 5230
E-mail: veneta@cu.bas.bg
Erasmus Agreements, Staff mobility, Incoming mobility:
Tomina Galibova, Chief Expert
Erasmus Coordinator
Phone: (+359 2) 979 5387
E-mail: tominaglb@cu.bas.bg
Visas and insurances:
Plamen Stefanov, Seniour Expert
Phone: (+359 2) 979 5238
E-mail: stefanov@cu.bas.bg
Calendar
1 October – beginning of academic year


30 September – end of the previous academic year. All grants must have been transfered and all mobility participants must have returned by then.

April-May – application of PhD students, lecturers and staff for mobilities during the next academic year. The invitations are announced on the Bulgarian Academy of Sciences web site, in the Erasmus column or in the News section and are sent on paper to all units of the Academy.

September – possibly a second call for PhD students

mid-April – June: deadlines for submitting the applications of the PhD students approved by BAS to host universities, different for each of them, for the first semester or the whole year

mid-October – December: deadlines for submitting the applications of PhD students approved by BAS to host universities for the second semester (different for each HEI)
Impressions
My Erasmus+ mobility began in September 2015 and ended February 2016. I was in Warsaw University, Warsaw, Poland. I had the opportunity to do a lot of work on my dissertation and to meet new people. As a whole, administration at the University helped and responded quickly. The library was relatively rich (English), and it was amazing for me that there were books in Bulgarian published last year. The courses were in English but there were are also in Polish for those who spoke the language well. In this line of thinking, teachers were also very helpful and quick to react.

Regarding the city – it is nice, there is what to see especially during the spring-summer season. There are many museums, parks and gardens. It's actually a pretty green city. But I definitely recommend a trip to Krakow – an exceptional city. And in general – a travel to Poland. Even if you have already done so – visit the neighboring countries of Poland (and not only them). For this purpose, there is fast and cheap transport. And another recommendation – be careful with mentors! I wish a nice and fruitful trip!
My name is Karekin Esmeryan, and I'm currently a research associate at Virginia Commonwealth University, USA. Here I deal with the development of readily available and inexpensive methods for the synthesis of superhydrophobic and diamond-like carbon coatings for applications in anti-icing systems, shipbuilding, medicine and so on. My touch with Erasmus program was in the academic year 2012/2013 when I realized there was opportunity for specialization in different European research institutes and universities. After a brief search on the Internet, I myself found the host institution, Northumbria University, Newcastle Upon Tyne, UK, and after a conversation with Professor Glenn McHale, we reached an agreement for me to leave for 6 months. I was provided with full co-operation by the Bulgarian Academy of Sciences and by Prof. Barlieva and Mrs. Tomina Galibova in particular who worked extremely professionally on all my desires and claims.

For me, the participation in the Erasmus program, purely personally, was an adventure. I saw what it was like to be a member of the international academic community, and I also touched on the different lifestyle in North England. Professionally, the Erasmus program was one of the main driving forces for my further development, as in Newcastle, under the guidance of Professor Glenn McHale, I became familiar with the methods of synthesis of superhydrophobic surfaces (also known as super water-repellent surfaces) and their practical applications. On the basis of what I had learned, I made a preliminary defense of my doctoral thesis within the 3-year legal term which earned me a prize of 1000 leva, and then I received my doctoral degree in just 3 months which brought me a prize of another 1000 BGN. Outside of the financial side, however, the Erasmus program helped me to achieve the necessary qualifications to continue my work as a researcher and to get the names of an American and a Bulgarian institution standing side by side. In this line of thinking, I recommend to everyone who hesitates to participate in the program to stop these doubts and take advantage of the opportunities. True, Erasmus also has some minor shortcomings, for example, a grant that is a bit below the standard of host countries but with good motivation, organization and purposefulness, one overcomes these obstacles.

I have the best feelings about these past days, and I wish success to all colleagues who will be participating in the program.
As a PhD student at the Bulgarian Academy of Sciences, I was seconded to Venice, Italy under the Erasmus+ program in the period June-August 2015. During my mobility, I worked on my dissertation at Ca'Foskari University. The coordinator at the host institution who was responsible for me, Prof. Iliana Krapova, was one of the most prominent generational syntaxists in the world.

Due to the specifics of life and infrastructure in Venice, university resources are scattered across multiple libraries in different parts of the city. Prof. Krapova, besides advising me on the topic of my doctoral's work, also directed me to the most useful sources. Although summer is not among the most active academic periods, libraries and electronic resources were available almost all the time except for a short vacation in August. Staying in a foreign university offers great opportunities for academic contacts; for me, for example, it was very useful to communicate with Prof. Rodolfo Delmonte, a specialist in computer linguistics.

Along with specialized professional contacts, I have to mention the presence of the so-called Buddy program. Under this program, students from Ca'Foscari are helping newcomers which is extremely useful in getting to know the life in an unknown university and a city as a whole. Venice is one of the world's most popular tourist destinations, and the cost of living is high even in comparison to other well-known Western European cities. During my mobility, I was staying at the College of Jejuites, one of the many religious institutions offering dormitories to students while such a form of accommodation allows for longer stays at more reasonable prices. Also, the presence of a student canteen and the possibility of using student cards for water transport contribute significantly to reducing daily expenses.

The exceptionally rich cultural program in Venice is far from concentrated around the Venetian carnival that takes place in the winter months. In the summer, within the traditional "Biennale", there are numerous festivals with separate weeks dedicated to literature, dance and fine arts and many others. In the field of humanities, the "Shylock" festival dedicated to Shakespeare's work and his play "The Venice Trader" were particularly interesting. As part of this festival, talks with actors and directors from the Royal Shakespeare Theater were held. All of this was complemented by a student marathon in Venice and the Redentore Festival which is traditionally accompanied by spectacular fireworks at the Bay of San Marco and a temporary pontoon bridge linking Venice and the island of Giudecca. Of course, not only Venice but also the entire lagoon is a source of exciting experiences – Murano (the island of Venetian glass), Burano (famous for its exclusive lace and multicolored houses), Lido (with its beaches on the Adriatic) and Torcello (the island from which has stemmed the historic beginning of Venice). And as the culmination of the summer, the International Film Festival in Venice can be accepted with premieres of world film productions in the presence of prominent actors and directors.

The three months in Venice under the Erasmus+ program became a true scientific expedition that was very fruitful to my research and enriched me with many positive emotions and experiences.
This was my second participation in the Erasmus program, and this time I had to combine regular studies at a foreign university with research work at a foreign scientific institute as well. This gave me the opportunity to enrich my scientific knowledge twice and to go back to the university bench but under completely new conditions.

I had the opportunity to study in one of the newest and best equipped university campuses across Central Europe. I also participated in a number of university initiatives that allowed me to travel, get to know new people with similar interests and learn more about other cultures. The Erasmus + program is an inexhaustible source of knowledge, full of many possibilities, dynamics and prospectives for the development of a young scientist!

Sending institution: Bulgarian Academy of Sciences, Institute of Organic Chemistry, Center for Phytochemistry
Host institution: Masaryk University and Institute of Biophysics at the Czech Academy of Sciences, Brno, Czech Republic.
Academic stay: Winter (autumn) semester of the academic year 2015/16 (4 months)
I am Ralitsa, and I am a PhD student at the Institute of Plant Physiology and Genetics at AS. During the academic year 2012-2013, I studied for three months at the Department of Genetics at the Faculty of Biology of Silesian University, Katowice, Poland.

I learned about the opportunities provided by the Erasmus Program from a colleague of mine, a PhD student, who explained to me the application procedures and the required documents in detail, and also enthusiastically inspired me to visit another European country and to see what was the academic, social and cultural life around the world.

My first impression of Poland in the face of Katowice and its inhabitants was amazement by the immense differences in architectural, cultural and traditional aspects such as numerous red buildings, the large, well-maintained green areas, well-organized public transport, clean streets and numerous churches and others.

For the three months of my training in Katowice, I was accommodated in a dormitory at Silesian University. The conditions were good. The only thing that surprised me was that even though the block I was housed was primarily designed for foreign students, janitors rarely spoke a language other than Polish which sometimes caused problems.

The local organization of the Erasmus Student Network (ESN Katowice) organized meetings of the Erasmus students from different universities in Katowice every two weeks. There I had the opportunity to meet with students who had come from different parts of Europe under the Program and exchange with them ideas and impressions on various topics. ESN Katowice also organized a fun and pleasant outing to Polish Beskid Mountains as well as a trip to one of the coal mines near Katowice. They were also the main coordinator of the traditional week of the Silesian Days where various opportunities for further development of Erasmus students were presented by local firms and institutions. Of course, the useful was combined with the pleasant in the form of different games, competitions and entertainments.

PhD students and scientists from the Department of Genetics at Silesian University were very kind and willing to help at any moment with whatever they can. Weekly seminars were held to discuss results obtained by different PhD students. Seminars were held in English not only so that I could understand them but also to train the very PhD students to deliver presentations in English by themselves. Besides, I had the opportunity to attend lectures given by visiting scientists. In general, the working atmosphere at the Biological Faculty of Silesian University was very creative.

Overall, these three months in Poland were an incredible experience. I made new friends, learned new methods to apply in my scientific work, I immersed myself in a different culture.

I would recommend for the Program to be more widely promoted and for everyone to take advantage of its potential.