Botanical Garden of BAS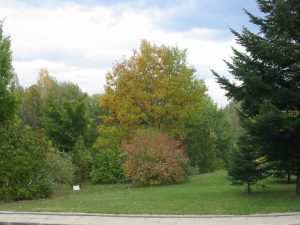 The Botanical garden of the Bulgarian Academy of Sciences is a specialized unit with an object of activity to support documented scientific collections of living plants for the needs of education and experimental botany. The public function of the Garden is related to the issues of exploration and conservation of biodiversity and the dissemination of knowledge about it among the broadest public strata, with a view to building a relationship to the sustainable management of biodiversity.
The Botanical Garden of the Bulgarian Academy of Sciences maintains the richest collection of plants in our country. Over 1% of the variety of higher plants in the world is included in its collections.
The garden is a base for practical classes of students and pupils. In relation to the obligations of the country under the international Convention on Trade in Endangered Species of Wild Fauna and Flora of the United Nations (CITES), a Rescue Center for Confiscated Plants has been established. Materials for research and horticultural purposes are exchanged with over 450 gardens and arboreta from 62 countries; we provide plants to enrich the collections of other gardens and parks in the country. Garden Specialists have a leading role in defining the Network of Important Plant Areas in Bulgaria, actively participating in the Red List of Plants in Bulgaria and Europe, the National System for Monitoring of Higher Plants.
History
The beginning of building the institution and the collections was more than a century ago, with the building of the Royal Botanical Garden in Sofia, located between the present boulevards "Tsar Osvoboditel", "Levski" and "Bulgaria". Since 1947, this Garden, with the preserved collections, has become part of the Botany Institute with Botanical Garden. In connection with the construction of the Monument of the Soviet Army, the Garden was moved twice, having its present place at the foot of Vitosha Mountain since 1969.
Since 1993, it has been an autonomous specialized unit at the Bulgarian Academy of Sciences. Since 1998, it has been open to visitors.
As part of the green system of the capital, the Garden, although with unfinished construction, is also a place for relaxation and enjoyment for thousands of visitors. Every year there are thematic events: "Meetings with plants", exhibitions for individual groups (azaleas, orchids, begonias) and others. Most popular and visited are the greenhouse collections, followed in the summer by the roses. In spring time, it is the most highly situated part of the Garden with the collection of tree-shrub plants from Asia which is attractive.
Educational initiatives
The collections are a basis for the training of students from Sofia University, University of Forestry, New Bulgarian University and Trakia University within their courses in Botany, Ecology, Dendrology and Floriculture, with separate practical exercises.
Contacts
22 Okolovrasten Pat Str., Sofia, Bulgaria

+359 2 967 11 05

+359 2 967 28 23