Institute of Experimental Morphology, Pathology and Anthropology with Museum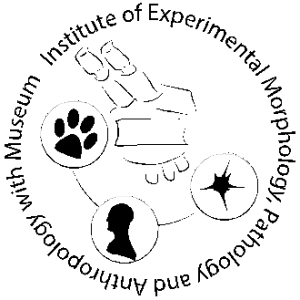 The Institute of Experimental Morphology, Pathology and Anthropology with Museum (IEMPAM) conducts complex fundamental and applied research in the field of humane and veterinary medicine, including morphology, cell biology, pathology and anthropology which have a significant role in solving important health and demographic problems. The subject area of the institute is unique for Bulgaria.
IEMPAM was established on July 1, 2010 as a successor of the Institute of Experimental Morphology and Anthropology with a Museum and the Institute of Experimental Pathology and Parasitology. IEMPAM inherited a rich history which had begun as early as the middle of the last century (1947-1948) when the Institute of Experimental Medicine (IEM) and the Institute of Experimental Veterinary Medicine (IEVM) were founded.
Scientific activity
IEMPAM's activities are in line with the national and European priorities of Health, Food Safety, Environment, National Identity and Cultural-Historical Heritage.
In the field of experimental morphology and pathology, the pathological and clinical aspects of current diseases of infectious, non-infectious and parasitic nature are studied. The regulatory mechanisms of cell differentiation are investigated, and the pathogenesis of various socially significant diseases is being clarified. Diagnostic methods are developed and biomarkers for degenerative, cancer and autoimmune diseases, infections and infertility are identified. Experimental model systems study the impact of the environment and lifestyle on human health. A comprehensive approach (in vitro, in vivo and in ovo) is being carried out to study the biological activity and safety of chemical and biological products. Expert activity is carried out for the needs of the biotechnology industry and for the diagnostics of animal diseases accompanied by major economic losses.
Anthropological and anthropogenic characterization of the population of Bulgaria is carried out in the field of anthropology; the development of the anthropological types on the Bulgarian lands is being clarified. The processes of acceleration and deceleration are studied; normative indicators for physical development are created; anthropometric markers for the diagnostics of different diseases are being developed in accordance with the European and national priorities "Health" and "Environment".
Among the achievements of the scientists of IEMPAM, the following should be noted:
Creation of a series of vaccines against poultry and cattle diseases accompanied by major economic losses.
Creation of a comprehensive approach to assess the biocompatibility of new bone implant materials for application in orthopedics and dental medicine.
Development of anthropometric norms that provide monitoring of the physical development of adolescents and the biological status of the population benefiting health professionals and nutritionists.
Clarification of the impact of anthropogenic pollutants (metals, hormone disruptors, etc.) on human hematopoiesis and reproductive health.
Development of new substrates for the localization of enzymes with application in clinical practice.
Clarification of the etiology and pathogenesis of neurodegenerative (Alzheimer's disease, non-transmissible and transmissible encephalopathies, multiple sclerosis, etc.) and systemic autoimmune diseases.
Tracing the patomorphological aspects of current viral and bacterial diseases in domestic and wild animals.
Carrying out comprehensive studies on epidemiology, clinical manifestations and diagnostics of parasitoses in animals and humans.
Investigating the host-parasite system as a component of the biomonitoring on environmental pollution.
Developing the new direction of virtual anthropology – a modern interdisciplinary approach to biomedical research.
The National Anthropological Museum (NAM) is a unique scientific, educational and cultural institution that carries out and presents original anthropological reconstructions and exhibits and promotes modern anthropological knowledge in order to preserve national memory and identity in accordance with the priorities "National Identity" "Cultural-Historical Heritage". NAM is the leading national center in the analysis of human bones from archaeological excavations. The travelling version of the museum and the thematic expositions created popularize nationally the anthropological knowledge.
The Institute publishes, through the Academic Publishing House "Prof. Marin Drinov", the series "Acta Morphologica et Anthropologica" – the only morphological journal in Bulgaria which is an organ of IEMPAM-BAS and the Bulgarian Anatomical Society. It is referenced in the electronic database BIOSIS Previews and is currently listed under number 76 in the Thomson Reuters Master Journal List. The journal's publishing policy has recently been refined, with a view to a preliminary assessment by SCOPUS and transition to a monitored regime.
Educational activity
IEMPAM is accredited by NEAA for training of PhD students under the following programs:
4.3 Biological Sciences – Morphology
4.3 Biological Sciences – Anthropology
4.3 Biological Sciences – Biochemistry
4.3 Biological Sciences – Parasitology and Helminthology
4.3 Biological Sciences – Immunology
4.3 Biological Sciences – Virology
6.4 Veterinary medicine – Pathology of animals
6.4 Veterinary medicine – Parasitology and invasive diseases in animals and humans
Experts from IEMPAM hold lecture courses and exercises at:
Center at the Bulgarian Academy of Sciences
Faculty of Biology, Sofia University "St. Kl. Ohridski"
University of Forestry – Sofia
South-West University "Neofit Rilski" – Blagoevgrad
"St. Cyril and St. Methodius" University of Veliko Tarnovo
The Institute participates in the MES "Student Practices" projects and trains graduates from different Higher Education Institutions. In IEMPAM, Bachelor and Master Students from SU "St. Kl. Ohridski" prepare their theses and doctoral students, post-doctoral students and post-graduate students from other countries are trained.
IEMPAM organizes scientific forums for the presentation of papers and posters by students, PhD students and young scientists. The youth workshop on biomedicine with international participation "Experimental oncology and tissue engineering" and the seminar and summer school for students and young scientists "The Bright World of Biomedicine" are traditional.
Educational activities are also carried out at the National Anthropological Museum. There are lectures, including in Russian and in English, public lectures, and group visits of students and soldiers. The Museum organizes and conducts museum lessons, and lectures before pupils' groups from secondary schools within the Educational Program for Complementary Education in History are organized.
Contacts
Acad. Georgi Bonchev Str., Bl. 25, 1113 Sofia, Bulgaria

+359 2 979 23 11, +359 2 870 49 21 (museum)

+359 2 871 01 07, +359 2 871 83 75 (museum)