Institute of Mineralogy and Crystallography "Acad. Ivan Kostov"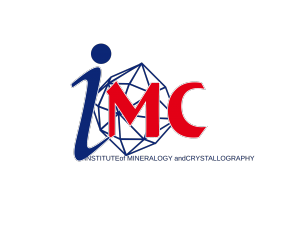 The Institute was established on 01.01.1984 under the name Institute of Applied Mineralogy. Since 01.03.1995, it has been transformed into Central Laboratory of Mineralogy and Crystallography (CLMC) which since 2005 has been named after the distinguished Bulgarian mineralogist and crystallographist Academician Ivan Kostov. The experts of the European Science Foundation and the European Federation of All European Academies, who conducted an international audit of the institutes at the Bulgarian Academy of Sciences in 2009, gave the CLMC an AAA assessment of "Quality and Productivity", "Significance: Socio-Economic Impact" and "Prospectives" after which CLMK was renamed Institute of Mineralogy and Crystallography "Acad. Ivan Kostov" (IMC), by decision of the Vth General Assembly of BAS from 01.07.2010.
IMC is a leading unit in the field of mineralogy and crystallography with a multidisciplinary scientific team and modern research infrastructure. The presence of specialists in mineralogy, crystallography, mineral raw materials, chemistry and physics makes it possible to conduct competitive research in a wide range of natural sciences and to solve various problems of natural, technogenic and experimentally modelled mineral systems as well as synthesis and crystal- chemical characterization of new promising materials.
The scientists from the institute are members of national and international unions and societies, supporting their activities and contributing to their development. IMC is the main initiator for the establishment of a Bulgarian Crystallographic Society which, through its initiatives, contributes greatly to upgrading the qualification of PhD students and young scientists from Bulgaria and the Balkan region in the field of crystallography.
IMC works with Bulgarian and foreign scientific organizations to implement scientific and applied research projects. IMC is a sought-after partner in solving scientific-applied and technological tasks related to the extraction and efficient use of mineral resources, characterization of new materials and different products of the pharmaceutical and food industry.
Educational activity
IMC has program accreditation in professional field 4.4. Earth Sciences, Doctoral program: Mineralogy and Crystallography with a grade of 9.79 valid until 14.04.2020.
For the period 2013- July 2017, the total number of PhD students trained in the unit was 13. Nine PhD students successfully defended their theses within the deadline. There were five newly enrolled PhD students in this period.
IMC offers and conducts specialized courses at the Training Center of BAS in Infrared Spectroscopy; X-ray structural analysis; thermal analysis; minerals – indicators of magma and metamorphic processes and epithermal low sulphide deposits of precious metals.
Specialists from IMC are invited lecturers and hold exercises at New Bulgarian University, Sofia University – geochemistry and "St. I. Rilski" MGU for Bachelor and Master students.
IMC participates in the MES Student Practices Programme which is financed by OP SESG.
Contacts
Acad. Georgi Bonchev Str., Bl. 107, 1113 Sofia, Bulgaria

+359 2 979 7055

+359 2 979 7056
International relations