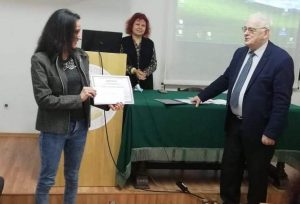 On the occasion of 24 May – the Day of the Holy Brothers Cyril and Methodius, the Bulgarian alphabet, education and culture and the Slavonic Literature, at the Institute of Microbiology the prize of "Academician Stephan Angeloff" Foundation was awarded for best work of a young microbiologist. After the ceremony, the professors and associate professors elected in 2020 at the Institute presented public academic lectures.
The winners of the competition are: Dr. Adelina Stoyanova, for the article "Effect of Consecutive Alternating Administration of a Triple Combination of Anti-Enteroviral Compounds in Mice Infected with Coxsackievirus B3″ and Assist. Prof. Dr. Lyudmila Dimitrova for the publication "In Vivo Assessment of Acute and Subacute Toxicity of Ethyl Acetate Extract from Aerial Parts of Geum urbanum L.".
For the first time, the jury also awarded prizes to students – Viktor Sotirov and Krasimir Sotirov, for their scientific paper "Characteristics of apple juices obtained by the cold pressing method", presented within the "European Researchers' Night".
Public academic lectures were given by:
Prof. Penka Petrova, DSc – Omics-approaches in the study of bacterial resistance to alcohol stress;
Prof. Svetla Danova, DSc – Molecular characterization and probiotic potential of Bulgarian lactic acid bacteria;
Prof. Milen Georgiev, PhD – Pharmaceutically relevant molecules from plants and their in vitro systems: metabolomic and biotechnological aspects;
Prof. Andrey Tchorbanov, PhD – Experimental mouse models to study the effectiveness of vaccines and chimeric molecules for the therapy of autoimmune diseases and allergy;
Assoc. Prof. Maya Zaharieva, PhD – Alkylphosphocholine erufosine: a novel modulator of signal transduction in malignantly transformed cells;
Assoc. Prof. Violeta Ruseva, PhD – Modern approaches in microbiological studies of mycobacteria in humans and animals.