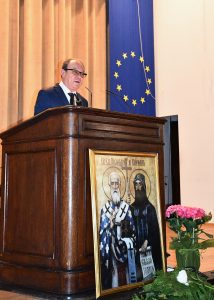 The Bulgarian Academy of Sciences celebrated 24 May – the Day of the Holy Brothers Cyril and Methodius, of the Bulgarian alphabet, education and culture and of the Slavonic Literature with a ceremonial assembly. The President of the Academy Prof. Julian Revalski, Full Member of BAS, delivered a speech on the occasion.
"Our mission is to be convinced and to convince that every talented creative act, every scientific discovery marks a significant, respectable trace not only in the national memory," said Prof. Revalski.
Prof. Iliya Iliev from the Institute for Historical Studies of BAS delivered a festive speech on the topic "The work of Cyril and Methodius and medieval Bulgaria".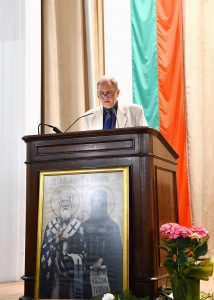 "Bulgaria became a leading cultural center of medieval Europe. Armed with this spiritual shield, the Bulgarian nation has survived through the centuries of foreign domination, turning the work of Cyril and Methodius into an anthem and a flag of its Revival" said in his speech Prof. Iliev.
The celebration was attended by the caretaker Minister of Education and Science Corr.- Mem. Nikolai Denkov, the Deputy Minister of Education and Science Prof. Nelly Koseva, the Deputy Minister of Culture Assoc. Prof. Plamen Slavov, the Mayor of Sofia Municipality Yordanka Fandakova, representatives of the Board of Trustees of BAS and the scientific community.
The President of BAS, Prof. Julian Revalski, presented honorary awards to institutes and scientists from the Academy. An honorary plaque of BAS "Marin Drinov" was awarded to: the Institute of General and Inorganic Chemistry, the Institute of Organic Chemistry with a Center for Phytochemistry and the Institute of Polymers. The honorary sign "Marin Drinov" on ribbon was awarded to: Prof. Pepka Boyadzhieva, Acad. Ivan Ivanov, Acad. Veselin Drenski, Corr.-Mem. Oleg Mushkarov and Prof. Nikolai Spassov. The badge "For Merits to BAS" was awarded to Prof. Yordan Uzunov.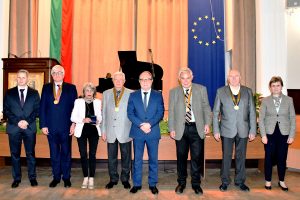 An exhibition of the Central Library of BAS is dedicated to the 165th anniversary of the birth of Stoyan Mihaylovski. The exhibition in the Central foyer of BAS presents his personal library, his first publications on the pages of the Periodical Journal and the Collection of Folk Tales, as well as the first editions of his works. Stoyan Mihaylovski is the author of the poem "Cyril and Methodius" which became a school anthem after Panayot Pipkov created the music for it.
On 24 May, a wreath was laid at the Monument to the Holy Brothers Cyril and Methodius in Sofia on behalf of the Bulgarian Academy of Sciences.