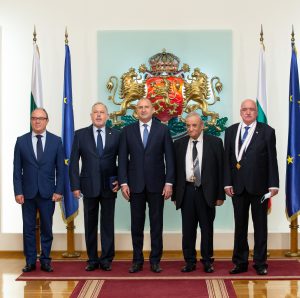 Academician Vassil Sgurev was awarded the Order of St. Cyril and Methodius" – collar for his contribution to the development of electronics, robotics and information technologies. At a ceremony in the Coat of Arms Hall at 2, Dondukov Blvd., President Rumen Radev presented state awards to prominent Bulgarians for their significant merits in the field of medicine, information technologies and defence.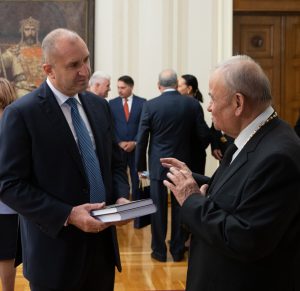 Acad. Vassil Sgurev thanked for the state awards on behalf of the awardees. "We have all worked for the prosperity of our country and we want to see it as the National Revival people saw it, namely high, on a par with all other nations, able to move forward in a constantly and dynamically developing world system," said Acad. Vassil Sgurev.
The Head of State awarded Prof. Dr. Kamen Plochev with the Order of the Madara Horseman – first grade for his achievements in the field of medicine, the development and strengthening of bilateral relations in the field of healthcare and research in medicine between the Republic of Bulgaria and a number of European countries. Colonel Slavcho Velkov received the badge of honour of the Bulgarian head of state for his contribution to the defense and security of Bulgaria, as well as for his active social and military-patriotic activities.