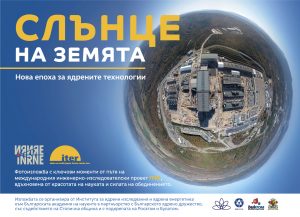 If you missed the chance to visit the live exhibition "Sun on Earth – A New Era in Nuclear Technologies", you have the opportunity to see it online as part of the  "European Researchers' Night", an initiative of nauka.bg.
The exposition was organized by INRNE-BAS together with the Bulgarian Nuclear Society, Sofia Municipality and with the support of Rosatom and Bulatom, and located on the Lovers' Bridge in Sofia from 10 to 23 August 2021.
The exhibition is an exceptional photo story of the achievements of mankind in the field of thermonuclear fusion and the construction of a large-scale high-tech facility with the combined efforts of 35 countries, including Bulgaria as a member of the European Union. It includes 30 professional photographs following the construction of an experimental reactor under the ITER project, which will generate energy based on the fusion of deuterium and tritium. The project is distinctive because thermonuclear fusion is specific to stars and does not occur naturally on Earth. The benefits to humanity that it is expected to bring will not only have economic dimensions. Their value lies in the integration of the various nationalities linked by scientific discoveries and achievements and in the successful partnership between science and business that has been demonstrated which can serve as an example for other fields.
Among other things, the pictures prove that science can also be beautiful. Most of the images look like works of avant-garde art. You can see for yourself by following this link: https://nauka.bg/izlozba-slance-zemya-nosht2021/