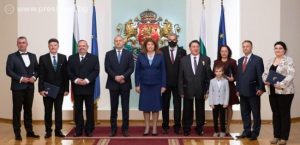 On the National Enlighteners Day, Head of State Rumen Radev awarded the Presidential Badge of Honour to prominent Bulgarian personalities with great contribution to the spiritual development and scientific authority of the country.
From BAS, Acad. Krassimir Atanassov and Corr. Mem. Vladko Panayotov were awarded.
President Rumen Radev presented the Honorary Badge to Acad. Prof. Krassimir Atanassov for his scientific and applied contribution in the field of artificial intelligence, medicine, biology, transport and a number of other areas, as well as for his achievements in raising the significance of Bulgarian scientific publications among the leading ones in the world.
For his outstanding merits to the development of science in the field of chemistry, mining and the enrichment and protection of the environment and ecology, as well as for affirming the prestige of Bulgaria on a global scale, the award was given to corresponding member Prof. DSc Vladko Panayotov.
It is no coincidence that 1 November is also the day of Bulgarian scientists, the Head of State said in his address in the Coat of Arms Hall at 2, Dondukov Street and stressed that their undeniable scientific and applied contribution is a real pride and international recognition for our scientific community and for Bulgaria. The President of BAS Prof. Julian Revalski, Full Member of the Academy, attended the ceremony.
Photo: www.president.bg