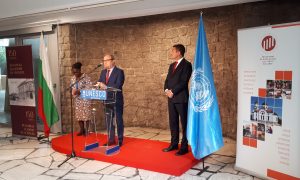 At the initiative of the Bulgarian Academy of Sciences, the celebration of the 150th anniversary of the Academy is included in the UNESCO program for 2019. On this occasion, a photo exhibition of BAS at the UNESCO premises in Paris is presenting the activities of the Academy to the international community.
The opening of the exhibition took place on 16 October in the presence of ambassadors, Bulgarians living and working in France and representatives of the scientific community. The event was hosted by the Ambassador of Bulgaria to France and Permanent Representative of Bulgaria to UNESCO, H.E. Anguel Tcholakov, and the President of BAS, Prof. Julian Revalski, DSc.
The official delegation of BAS for the event also included the Chairperson of the General Assembly of BAS, Prof. Evelina Slavcheva, and the Scientific Secretary-General, Prof. Evdokia Pasheva.
The President of BAS presented the activities of the Academy and its role throughout all historical periods. He spoke about the achievements of Bulgarian scientists in the 150-year history of BAS and current projects in its scientific fields. At the opening of the exhibition, H.E. Anguel Tcholakov pointed out that the Bulgarian Academy of Sciences was the largest scientific center in Bulgaria and that the work of scientists in it was a reason for pride of our country.
A congratulatory address on behalf of UNESCO Director-General, Ms Audrey Azoulay, was read by Dr. Peggy Oti-Boateng, Director of the Division of Science Policy and Capacity Building in the Natural Sciences Sector at UNESCO Headquarters.
UNESCO's relations with the Bulgarian Academy of Sciences have a long history. Many Bulgarian scientists have made significant contributions to the activities of the International Basic Sciences Program, the Intergovernmental Program Information for All, the Man and Biosphere Program, the Memory of World, and the International Bioethics Program. Our cooperation is based on a common effort to deepen international exchange in the field of science, it was noted further. UNESCO will announce 2021 as the year of basic sciences.
The congratulatory address highlights the importance of autonomy for both researchers who have the freedom to pursue their intellectual curiosity as all as autonomy at the institutional level. Dr. Peggy Oti-Boateng pointed out that there were several ways academies can protect science and technology in their countries. These are the promotion of excellence, the stimulation of public understanding of science and the publication of reports on topics of public interest which BAS has done for years, she said.
H.E. Anguel Tcholakov received at a separate meeting at the Bulgarian Embassy in Paris the official delegation of BAS. The meeting discussed future joint initiatives between the embassy and BAS in the fields of science, innovation and education. Particular attention was also paid to the work with the Bulgarian scientific diaspora in France and Europe.
Until 24 October, visitors to the exhibition in Paris will be able to view 25 canvases that tell the history and scientific achievements of BAS.
Link to the website of UNESCO: 150 ans de l'Académie bulgare des sciences