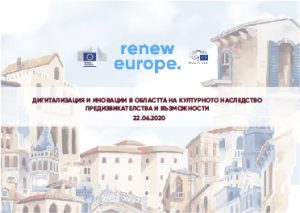 The main activities of the Bulgarian Academy of Sciences related to the digitalization of cultural heritage were presented by the Vice-President of BAS, Corresponding Member Vassil Nikolov, at an international video conference on the problems of digitalization and innovation in the field of cultural heritage.
BAS is emerging as the largest entity in the country in this area, said Corresponding Member Vassil Nikolov, after acquainting the participants in the event, broadcast online, with specific projects for the work of scientists from the humanities institutes of the Academy, three academic museums, the Scientific Archive and the Central Library of BAS, as well as the Institute of Mathematics and Informatics. The Vice-President of BAS spoke about the main activities carried out at the Academy for digitalization at each stage of the study, preservation and promotion of digital heritage.
Digitization in field work, typical for archaeology and folklore, museum work and digitalization of museum funds and archives, virtual museums and scientific and educational internet products are the areas in which BAS is successful. Our idea in the future is to deepen the work and establish contacts with international institutions, said Corresponding Member Vassil Nikolov.
The video conference "Digitalization and Innovation in the Field of Cultural Heritage – Challenges and Opportunities" is organized at the initiative of the Bulgarian MEP Iskra Mihaylova. The event was attended by the Commissioner for Innovation, Research, Culture, Education and Youth Mariya Gabriel, the Chairman of the Committee on Culture and Media at the National Assembly Vezhdi Rashidov, the Minister of Culture Boil Banov, the President of the Bulgarian National Committee of the International Council of Museums (ICOM) Corresponding member Mila Santova, as well as Graham Bell – a member of the board of EuropaNostra – the organization which awards the annual European Heritage Awards, MPs, university professors and experts in the field.
During the conference, important topics were discussed regarding the main priorities for the EU related to the protection of cultural heritage, implementation of innovations and digitalization in the next decade and the opportunity for Bulgaria to participate in their implementation.