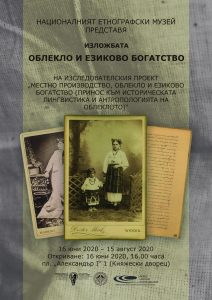 The exhibition "Clothing and Linguistic Treasure" in the National Ethnographic Museum is open to visitors until 15 August 2020. The opening took place on 16 June, in Hall 11.
The exhibition is part of the scientific project "Local production, clothing and linguistic treasure (contribution to historical linguistics and anthropology of dress)". The project aims to study and publish in electronic form little-known archival documents from 1888 and 1889, stored in the Scientific Archive of BAS. They are over 1 100 pages of handwritten descriptions of clothing and about 150 photographs taken specifically to show some of the clothing.
The organizers of the exhibition thank the Scientific Archive of BAS for agreeing to exhibit facsimiles and photographs, part of the manuscripts studied in the project.
The project is funded by the Bulgarian National Science Fund (contract DN 10/12 of 2016) and is implemented jointly by Sofia University "St. Kliment Ohridski" and the Institute of Ethnology and Folklore Studies with Ethnographic Museum at the Bulgarian Academy of Sciences.