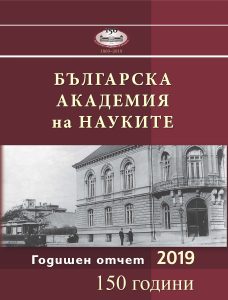 The National Assembly approved the annual report of the Bulgarian Academy of Sciences for 2019 at today's plenary session. The President of BAS, Prof. Julian Revalski, Full Member of the Academy, presented the activity of BAS during the past year to the deputies.
BAS strengthens its role as a leading scientific institution – over 50% of the referenced scientific articles according to Web of Science for 2019 are of researchers from the Academy, highlighted Prof. Revalski and said that there was stability of the scientific results of the researchers from BAS which were also aimed at their direct application in practice. The inventions by scientific units of BAS recognized in 2019 are 40, and 20 utility models have been registered.
Prof. Julian Revalski paid special attention to the fact that project funding has always been a priority for scientists from the Academy. He added that the own revenues and transfers of BAS for 2019 were over BGN 100 million and for the first time exceeded the budget subsidy. The President of the Academy also noted a negative trend in the number of both doctoral students trained at BAS and those who obtained the scientific and educational degree "Doctor". In the last few years, measures have been taken to stimulate young scientists and doctoral students through additional funding provided by national programs and scholarships, added the President of BAS.
In 2019, BAS as a leading organization was engaged in the implementation of three National Scientific Programs (NSP), pursuant to the National Strategy for Research Development 2017-2030. In the other NSPs, the Academy participated as a partner with its institutes. In 2019, scientists from the units of BAS with their expert activity supported the work of various national and international institutions with their expertise, opinions and consultations.
The report of the Academy also states that the articles published in journals of the highest (Q1) category for 2019 are 37% according to the global database Web of Science and SCOPUS. According to the Web of Knowledge, the h-index of the Bulgarian Academy of Sciences for 2019 is 202. For comparison, the h-index of Bulgaria is about 260.
In 2019, BAS celebrated its 150th anniversary and presented to the public its achievements in all areas of knowledge during the years of its existence, said the President of BAS Prof. Revalski. He underlined that the Academy in this century and a half has worthily asserted its position of a temple of science and spirituality.