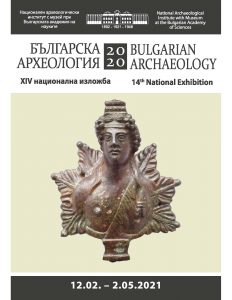 The National Archaeological Institute with a Museum at the Bulgarian Academy of Sciences (NAIM at BAS) is going to present the fourteenth national archaeological exhibition "Bulgarian Archaeology 2020" from 12 February to 2 May 2021. Traditionally, the exhibition shows the most interesting finds and rich illustrative material from the field work of Bulgarian archaeologists in the previous year. It is organized on the occasion of the Archaeologist's Day, 14 February.
"Despite the serious difficulties caused by the spread of the coronavirus in Bulgaria, 2020 was a very important and successful year for Bulgarian archaeology. Our work covered large-scale rescue excavations and numerous planned studies throughout the country. We received funding for more than 100 projects," said the director of NAIM at BAS, Assoc. Prof. Dr. Hristo Popov.
The exhibition presents over 350 exhibits from 27 sites, different in type and chronology, from Prehistory to the Middle Ages. Among them are the ongoing research of the prehistoric settlement mounds Provadia, Poroy and Kozareva mound, the Late Bronze Age necropolis of Baley, the Greek colony Apollonia Pontica, Sozopol, the Roman cities of Philippopolis, Ratiaria, Escus, Sexaginta Prista, Almus, the medieval capitals of Pliska and Veliko Tarnovo, a large part of which funded by the Ministry of Culture. Sites from the rescue archaeological excavations on the expansion of the gas transmission structure of Bulgartransgaz, the Hemus highway, the route of the international road E79 in the section Vidin-Sofia and the railway line Plovdiv-Burgas are also presented. Among them are the late Neolithic settlements near Kovachevets, Popovsko and Buta, Panagyurishte, the late Chalcolithic necropolis near Gradishte, Shumen region, the Roman settlements near Sinagovtsi and Slana bara, Vidin region.
Among the most impressive finds are prehistoric anthropomorphic figurines and vessels from Provadia and Kovachevets, an object with incised signs from Buta, a gold ring from the distant V millennium BC from the settlement mound Poroy, a richly decorated vessel in the shape of a bird from Baley, an iron rhomphaia from Chirpan, a collective find of nearly 600 silver Roman coins from Plovdiv, gold Roman ornaments from Slana Bara and Almus, gold ornaments and an ivory plate from Trapezitsa ( Veliko Tarnovo).
The 14th exhibition "Bulgarian Archaeology" is the result of joint work and partnership with 16 historical and archaeological museums throughout the country, which have provided finds from their funds. These are the National History Museum, the regional archaeological museums in Varna and Plovdiv, the regional history museums in Veliko Tarnovo, Vidin, Pleven, Ruse, Sofia and Shumen, the Archaeological Museum "Ancient Nessebar", the Archaeological Museum "Maritsa East", Radnevo and the historical museums in Lom, Panagyurishte, Polski Trambesh, Popovo and Provadia.
"Bulgarian Archaeology 2020" will be open to visitors until 2 May 2021 in the Central Hall of NAIM (1, Atanas Burov Sq.).