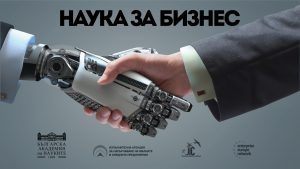 For the first time a development of the Bulgarian vaccine against COVID-19, PCR kits, a device for decontamination of the air from viruses and bacteria, bioceramics by space technology and many others were presented.
One of the most long-awaited business events – "Science for Business", organized by the Bulgarian Small and Medium-sized Enterprises Promotion Agency (BSMEPA) and the Bulgarian Academy of Sciences (BAS), was held entirely online live from a virtual studio and presented the most interesting developments of the Academy, ready to become a successful business.
The event was opened by Prof. Julian Revalski, Full Member of BAS and President of the Academy and Dr. Boyko Takov, Executive Director of BSMEPA. Deputy Minister of Education and Science Karina Angelieva and Deputy Minister of Economy Stamen Yanev welcomed the participants in the forum.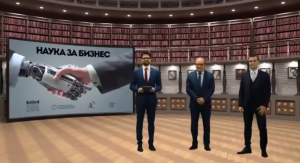 For the first time, the development of a native vaccine against COVID-19, the work of the Institute of Microbiology at the Academy, was publicly presented. Prof. Penka Petrova told more about the qualities of the prototype, including its ability to be stored at a higher temperature of 4 degrees, to help the immune response to various mutations of the virus, and also to be sprayed unlike the current ones that are injected.
Along with the vaccine, other developments of BAS related to the pandemic were presented – a native PCR kit for pathogen detection developed by the Institute of Molecular Biology, as well as a specialized device that decontaminates the air from viruses and bacteria of the Central Laboratory of Applied Physics – Plovdiv.
Nearly 20 presentations also showed a special technology used at the International Space Station for bioceramics for endoprostheses, developed by the Institute for Space Research and Technology, and a demonstration of a robot that allows the transport of goods in enterprises and factories.
In front of over 500 spectators – business representatives, company owners and innovation enthusiasts, the scientists from BAS presented more projects of the Academy for optimization of industrial tasks, 3D digitalization, energy efficiency, hydrogen technologies, ecology, electricity and heat production, energy storage, medicine, virology, pharmaceutical industry, viticulture, winemaking and many others. Other technologies with cryopreservation of living matter – sperm by the Institute of Solid State Physics, as well as good examples of cooperation between business and the Academy and products implemented in partnership were shown.
The main mission of "Science for Business" is to support the building of a sustainable institutional environment for cooperation and interaction between Bulgarian science and business as the organizers aim to continue the initiative with more events from the series "Science for Business".
Expect a full recording of the event, available on the YouTube channel of BSMEPA – SME Government. You can see the presented topics HERE.
The event is organized with the support of Enterprise Europe Network – Bulgaria.