Българистика / Bulgarica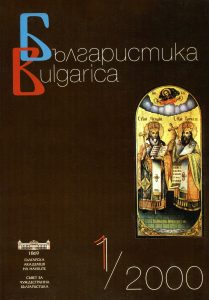 The periodical "Българистика/Bulgarica" is published twice a year by the Council of Bulgarian Studies Abroad with a cooperation of the Central Library of the Bulgarian Academy of Sciences.
Mandatory sections are:
"Bulgarian literature" – contains records of books by Bulgarian authors (referenced list with complete bibliographic data), and the content of the main Bulgarian scientific journals in linguistics, literature, history, folklore, ethnography, archeology and art studies.
Section "Outlooks" includes overviews of the current state of Bulgarian studies in Europe, America and Asia.
Under the heading "Profiles" are noted the anniversaries of eminent scholars contributed to the development of Bulgarian Studies. The publication contains a complete list of defended Ph.D. theses and data about scientific conferences. Under the heading "Reviews" are published reviews of monographs and collections.
The section "Scientific Activity" provides information about national and international scientific forums.
The "Messages" еncompasses information about the scholars awarded by BAS. The language of the periodical is Bulgarian, with contents and annotation in English.
Editorial board
Editor: Anislava Miltenova, Professor Doctor of Philology
Compilers: Anislava Miltenova, Professor Doctor of Philology, Nikola Kazanski, Assoc. Prof. Dr., Emilia Voleva
Printing preparation: "Prof. Marin Drinov" Publishing House of BAS
© BAS Central Library
ISSN: 1311-8544
Printed.
In Bulgarian, with an English content and annotation, 2 volumes per year.
Editorial address:
Bulgarian Academy of Sciences
Council for Foreign Bulgarian Studies
1 15th November Str., 1040 Sofia